Compiled by Gary Rasberry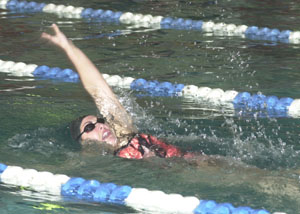 Coldwater swept both the boys and girls title at the annual MAC Invitational held Saturday at the Celina YMCA.
The AquaCav boys won with 159 points and New Bremen was second with 113. The Coldwater girls were in a battle with Marion Local, edging out the Flyers, 155-144, for the title. Minster and St. Henry also brought representatives to the meet.
Several meet records were broken on Saturday. Debbie Lange of St. Henry set the first record in the first individual race, breaking the 200-yard freestyle record with a time of 2:14.53, taking 13 seconds off the old record. Coldwater's Gina Harting took the second record, breaking her own mark in the 100 freestyle by shaving 0.21 seconds off the old mark to finish at 59.29 seconds.
Cavalier teammate Brittany Klenke was the fastest of three girls to break the 500 freestyle record of 6:53.88. Klenke finished in 6:31.68.
Marion backstroke specialist Jodi Winner took over a second off her meet record in the 100 backstroke, finishing with a new mark of 1:08.55.
The boys backstroke mark was also broken as Minster's Troy Niekamp set a new standard with a time of 1:10.65.
The final record was set by Scott Weitzel of St. Henry in the 100 breaststroke, taking two seconds off Coldwater grad Joe Otte's mark with a new time of 1:09.23.
Lange captured a second title later in the day with a win in the 50 freestyle. Klenke added the individual medley to go with her 500 free win.
Patrick Anthony of Coldwater took the 200 freestyle and followed up by winning the 500 freestyle. Marc Prenger of Minster swept the short free-style sprints in taking the 50 and 100.
Area teams will start sectional swimming action next weekend. Coldwater will travel to Ayersville while the rest of the area MAC teams head to Lima for their sectional.

Results from the MAC Swim Invitational hosted by Coldwater High School at the Celina YMCA.

Team Standings
Boys
1. Coldwater 159, 2. New Bremen 113, 3. Minster 110, 4. Marion Local 81, 5. St. Henry 18.

Girls
1. Coldwater 155, 2. Marion Local 144, 3. New Bremen 130, 4. Minster 67, 5. St. Henry 18.

Meet winners ( * -- Denotes New Meet Record)
Girls
200 Medley Relay: Marion Local (Jodi Winner, Sarah Hess, Kristi Schulze, Hillary Hartings) 2:07.46.
200 Freestyle: Debbie Lange (SH) 2:14.53-*.
Individual Medley: Brittany Klenke (CW) 2:34.40.
50 Freestyle: Debbie Lange (SH) 26.56.
100 Butterfly: Jessica Otte (CW) 1:12.70.
100 Freestyle: Gina Harting (CW) 59.29-*.
500 Freestyle: Brittany Klenke (CW) 6:31.68-*.
200 Freestyle Relay: Cold-water (Gina Harting, Jenny Schaefer, Brittany Klenke, Jessica Otte) 1:53.81.
100 Backstroke: Jodi Winner (ML) 1:08.55-*.
100 Breaststroke: Sarah Hess (ML) 1:21.11.
400 Freestyle Relay: New Bremen (Dani Bronkema, Jenni-fer Dick, Kelly Henderson, Emily Rutschilling) 4:30.02.

Boys
200 Medley Relay: Minster (Marc Prenger, Derik Abbot, Doug Preston, Jason Beckman) 1:57.47.
200 Freestyle: Patrick Anthony (CW) 2:06.89.
Individual Medley: Scott Weitzel (SH) 2:21.59.
50 Freestyle: Marc Prenger (M) 24.02.
100 Butterfly: Dustin Schwie-terman (CW) 59.41.
100 Freestyle: Marc Prenger (M) 55.45.
500 Freestyle: Patrick Anthony (CW) 5:47.53.
200 Freestyle Relay: New Bremen (Matt Smith, Lucas Larger, Tony Kremer, Martin Travis) 1:43.27.
100 Backstroke: Troy Nie-kamp (M) 1:10.65-*.
100 Breaststroke: Scott Weitzel (SH) 1:09.23-*.
400 Freestyle Relay: Marion Local (Dale Bruns, Daniel Huels-man, Keith Seitz, Cody Wynk) 4:14.66.


WaterDogs sweep seconds at WBL
The Celina boys and girls swim and dive teams each battled Shawnee for the Western Buckeye League titles on Saturday at Lima. The Indians held on to sweep both league championships with Celina right behind.
The Indians edged Celina in the boys 294-259 with the girls' race slightly farther in distance as Shawnee won 347-258. St. Marys took fourth in both the boys and girls standings.
Celina captured four race titles on the day. Just one came from the girls side as Kirsten Damples dominated in the 200 freestyle, finishing four seconds ahead of her opponent in a time of 2:04.26.
The WaterDog boys captured the other three titles. Eddie Craft was in control on the one-meter board, capturing the diving title with a final score of 413.95, 78 points better than runner-up Drew Bruns of St. Marys. Dan Hierholzer won the 100 backstroke title while Eric Adams was the only swimmer to break a minute in taking the 100 butterfly title with a time of 59.38.
The lone St. Marys win came from Roughrider vet Jasmine Craft. Craft won the 50 freestyle by 0.16 seconds over Shawnee's Katie Hoops.
Both Celina and St. Marys will head to Ayersville for sectional action on Saturday.