By Gary R. Rasberry
grasberry@dailystandard.com
With the regular season winding down, the level of competition at the 17th Celina Lions Wrestling Invitational proved to be a good primer for the upcoming sectional tournament.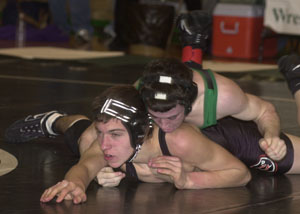 It was a newcomer to the tournament this season, St. John's Jesuit from Toledo, that proved to be the strongest, as the Division I school captured the team title with a staggering 251 points.
The battle for second came down to two local teams as Coldwater defended its runner-up title from last year in scoring 207 points. Versailles took third with 192 with Fremont Ross fourth with 172. The host MatDogs finished seventh in the tournament with 125 points.
"Jesuit has a solid team," said Coldwater coach Chuck Alig. "We didn't know a whole lot about them coming but they proved they have a lot of good stuff there. Second place is pretty respectable.
"I'm proud of our upperclassmen and how they wrestled today. Our seniors are really coming around. Our juniors like Adam Grieshop and Lucas Homan wrestled real strong today." Alig knows that the competition at the Lions will be a good preview for what they face at the Division III sectional.
"So many good wrestlers and they're all physical," said Alig. "It does help for sectionals."
Versailles coach Bill Roll agrees.
"Those are great Division I teams," said Roll, referring to St. John's Jesuit and Fremont Ross. "We were able to hang with them. We're really happy.
"We wrestled really well. We've got no complaints. We thought we'd score in a couple more weight classes, but we're not disapointed. We're going to work on some things and get ready for next week."
Celina boasted two champions on the day. Nick Gray, who lost out at 130 pounds last season, earned the championship in the weight class, beating SJJ's Kris Bowser 8-2 in the championship match.
The other was a big story as Eric Braun decisioned Coldwater's Andy Schmidt 16-10 to take the 152-pound title. Braun -- a cousin to Gray -- missed all of last season after a knee injury in soccer. After a year of rehab, the senior was able to respond with a solid season to earn the top seed in the tournament and went 5-0 on the day.
For his effort, Braun was named the Outstanding Wrestler of the Tournament.
"It feels great," said Braun. "Worked hard all year long. It's been a great comeback year for me.
"I really missed it (last year, when the MatDogs won their first WBL title), but those guys were wonderful last year. That just inspired me to work my butt off this year to do the best I can."
Versailles earned two titles as well. Ethan Olidver scored a pin against Olentangy Liberty's Pat Callings at the 3:52 mark to capture the 171-pound title. In the next weight class, Russ Besiner, the 171 champ from 2005, made it to titles, scoring late against Tom Schoen of St. John's Jesuit to force overtime, then getting the takedown in the extra session to win the 189 championship.
Coldwater placed a lot of wrestlers in the top six, but came out with one championship as Marty Hemmelgarn took the 135-pound title, beating LCC's Scott Kayatin 11-0.
Several wrestlers remained undefeated on the season. Nick Girle of Ayersville improved to 25-0 in defending his 215-pound title. On the other end of the spectrum, Derek Flores of Fremont Ross went to 28-0 in taking the 103-pound title for the second year in a row, beating teammate Marcus Measimer, who wrestled as part of a jayvee All-Star team.
History was made at the Invitational as a female wrestler made the championship round for the first time. Caitlin Rohn of Ayersville added to the history by winning her fifth-place match with a 10-8 overtime win over Coldwater's Matt Grandstaff.
The Cavaliers and Tigers can settle who's the best in the MAC on Saturday as the teams are joined by Delphos St. John's at the MAC Challenge at The Palace in Coldwater.
The MatDogs head east to St. Marys on Saturday for the Western Buckeye League tournament.
Phone: (419)586-2371, Fax: (419)586-6271
All content copyright 2006
The Standard Printing Company
P.O. Box 140, Celina, OH 45822