By Ryan Hines
rhines@dailystandard.com
COLDWATER -- Another stellar performance by Lindsey Kentner along with a tight zone defense was enough to vault Wapakoneta past Coldwater, 50-42, at The Palace on Tuesday night.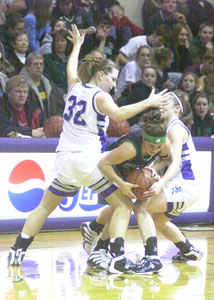 Kentner, who scored a school-record 39 points against Coldwater last year, torched the Cavaliers once again with a game-high 25 points, including a 9-of-12 showing at the free-throw line. Kentner, just a junior, helped put the game out of reach by making 8-of-11 from the charity stripe in the fourth quarter.
"I thought that we did a good job of defending Lindsey Kentner, but she's constant motion and did a beautiful job for them tonight," said Coldwater skipper Nick Fisher. "She's good with the ball and without the ball and I was just really impressed with her again. If you give her an inch, she'll stretch it a mile."
"Lindsey is just a great player and we're lucky to have her," said Wapakoneta head coach Brad Rex. "She's a great shooter and scorer, but she also does a nice job of finding her teammates for open shots as well."
In addition to Kentner's play, Rex was also very happy with the Redskins' execution from a very effective 2-3 zone. "We know that Kendra Robbins is a good enough player that she can play both inside and outside, but we wanted to make sure and keep her on the perimeter as much as possible," said Rex. "That's the best that we've played defense all year long whether it be zone or man-to-man defense. We worked on the zone yesterday pretty hard and we wanted to force them to shoot it from the outside. Our tallest player is just 5-9 and we knew that if they were able to get it inside that we would be in trouble."
Coldwater shot just 16-of-49 from the field (33 percent) and 8-of-23 from beyond the three-point arc (35 percent) which kept Wapakoneta in the zone for most of the game.
Kendra Robbins, who had 29 in the matchup against Wapak a season ago, was the lone consistent offensive force for the Cavaliers with 19 points on 7-of-15 shooting. Other than Robbins, Coldwater shot just 9-of-34 from the field (26 percent).
Wapakoneta's defense was never more impressive than when the Redskins turned on some full-court pressure at a pivotal moment early in the final quarter of play.
Robbins hit the final of her five three-pointers to tie the score at 33-33, but Wapak responded with a 7-0 run off of four straight Cavalier turnovers to go on top 40-33 with 6:01 left to play. Wapak scored the seven points in a 39-second spurt.
"We didn't handle the ball well for about a minute in the fourth quarter against their press and it turned into a big run for them because we turned the ball over and they turned them into points," said Fisher. "The key to the game was that their kids outhustled our kids and it showed during that spurt of turnovers."
"We use the pressure defense early in the game a little bit and then didn't use it again until the spurt at the beginning of the fourth quarter," said Rex. "I think that it surprised them (Coldwater) a little bit and we got four quick turnovers and were able to turn those turnovers into points at a critical time and that was huge for us.
"Our girls were in the right position during that spurt for turnovers, but I think that it was more of a surprise factor as to why it was so successful," added Rex. "We had them lulled in with our zone and then turned up the pressure at a crucial point."
Redskins freshman Devon Golden continues to play like one of the elite freshman in northwest Ohio after scoring 11 points with 10 rebounds.
Coldwater will look to prevent a three-game losing streak on Thursday at home against Delphos St. John's in a game where the outcome should also determine who receive the top seed at the Van Wert sectional.
Phone: (419)586-2371, Fax: (419)586-6271
All content copyright 2006
The Standard Printing Company
P.O. Box 140, Celina, OH 45822