By Kelly Braun
kbraun@dailystandard.com
GREENVILLE -- Music not only is entertaining, but also therapeutic.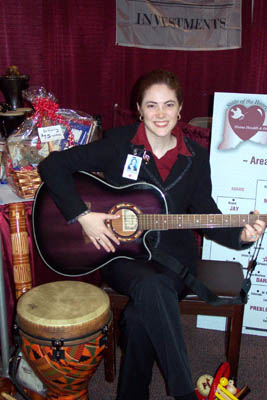 That is the belief of State of the Heart Home Health & Hospice, which for the first time has hired a music therapist to its staff. Jeannelle Benek, 26, began working for the organization out of its Greenville office in January and will serve clients in Mercer County.
Benek said music therapy is not just playing a CD to sooth someone.
"A CD can't hold your hand," she says. "Hospice is quality of life care; it's about comfort care. A music therapist works based on the client's preference. We then can use the music they request to recall good memories and facilitate some communication and expression of wishes."
She also says music may be used as a way for them to express feelings they simply can't say, whether through singing, playing an instrument or writing lyrics. Music also may be used to calm a hospice patient who is experiencing nausea. Or when a patient is dying and experiencing labored breathing, Benek says music can be matched to that level of agitation and then used to bring the person down to a calmer state that is easier for them to handle.
Benek, who is working on a master's degree in music therapy from Immaculata University, Philadelphia, Pa., says a music therapist is clinically trained to develop a client-therapist relationship to know how to handle each personality and situation.
She says music therapy is being used across the country to help teach students with learning disabilities, to help relieve chronic pain for some and to address emotional and psychological issues in others.
"Such as in a school setting, with an autistic child, you can work on communication and making eye contact through music," she says, adding that a good exercise would be using music improvisation to get a child to vocalize themselves by making up a song or playing an instrument.
She said another example is using music as a self-coping mechanism for a person with substance abuse or an eating disorder. She suggests using song writing as a way to deal with the pressures that have led to these problems.
While working for hospice, Benek plans to use music in a variety of ways, such as decreasing depression, being a distraction from pain or creating a safe space around the person who is dying.
Scientists say the sense of hearing is the last thing to go, even in a state of coma, Benek says.
"So you can use music as a holding environment and safe space," she says. "The client can have music, along with loved ones around saying their goodbyes."
Benek has several instruments, from guitars to percussion, and also sings and writes. She said sometimes the sessions are centered around the client singing or loved ones singing to that client. Sessions are based on what Benek learns from an assessment of the patient and developing a plan of care with a team from hospice.
"We can do song activities where they can make request is for music and dedicate songs to a child, or we could create a tape or video for them to give to a loved one," she says. "What is therapeutic to me may not be therapeutic to others. So each situation is different, based on the client. Ultimately, it's about improving the quality of life for that person."