By Laura Walker
lwalker@dailystandard.com
NEW BREMEN -- New Bremen Giant Pumpkin Growers have officially baked the world's largest pumpkin pie at 12 feet, 4 inches wide and 4 inches deep.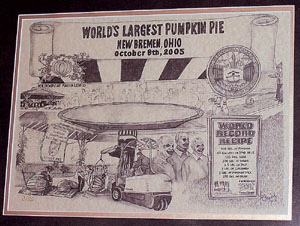 Giant Pumpkin Grower President Jeff Wells on Thursday presented the official certificate and letter from the Guinness Book of World Records to the village of New Bremen.
"This wasn't a group benefit, it was a community benefit," he told the crowd gathered for the announcement.
The pie was made on Oct. 8 at Crown Pavilion, after 10 months of planning and several practice bakes, Wells said. The pie required 897 pounds of pumpkin, 155 dozen eggs, 62 gallons of evaporated milk, 297 pounds of sugar, 3.5 pounds of salt, 7 pounds of cinnamon and 2 pounds of pumpkin pie spice.
"The pie lost over 200 pounds due to evaporation during the baking process," Wells said. Even so, after baking, the pie weighed in at 2,020 pounds.
This beats the competition -- a pie baked the same day at the Tuscola County Pumpkin Festival in Caro, Mich. That 2,100-pound pie was weighed before it was baked and not after it was pulled from the oven, therefore, being eliminated from the competition.
The previous record of a 6-foot, 3-inch wide pie was set at Windsor High School in Windsor, Calif., in October 2003. The earlier record was set with a 5-foot wide pie baked at the Circleville Pumpkin Festival. Wells said he expects to see Circleville attempt a new world record of 15-20 feet at its centennial celebration this year.
Wells said 38 companies assisted with the baking effort, supplying everything from the custom-made steel oven encased in concrete blocks to heat-monitoring equipment that maintained the designated temperature throughout more than five hours of baking.
Wells and other project members, John Turner, Jon Wells, Leon Homan, Greg Reynolds, Jess Siegle and Brian Boroff, have decided to give the pie pan to Crown Equipment Corp., letting company officials decide where to put it on display. The members have 250 limited edition prints for sale at $20 each at the chamber of commerce, Cues Barber Shop and Artist Touch. They also have T-shirts and sweatshirts for sale.
The pumpkin growers have set Oct. 14 for the second annual giant pumpkin contest. They say to expect more pumpkin-themed foods and activities and games for the youth. A giant pumpkin growing seminar will be 2-3 p.m. March 25 at New Bremen High School.