By Shelley Grieshop
sgrieshop@dailystandard.com
Linda Huston sews a small label onto the fleece blanket spread across her sewing machine. Behind her, on a long table, lies more than a hundred other blankets in pinks, blues and other colors, waiting to fill the arms of a child in need.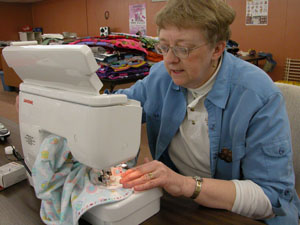 Huston and her husband, Dave, who own Linda's Sew 'N So in Celina, gather new, homemade blankets all year long from local crafters who donate them to the non-profit Linus Project. (Its name, of course, is taken from the Charlie Brown cartoon.)
For three years now, their sewing business has been a drop-off point for the cuddly blankets that are distributed by Linus Project coordinators to children whose lives have been touched by tragedy.
"The Linus Project helps babies through teens, any child who's been ill, affected by situations such as home violence or abuse, displaced or suffered the loss of a loved one," she says.
Feb. 18 is the project's 7th Annual Make a Blanket Day 2006, when volunteers across the country can bring in their homemade blankets to an affiliated store, such as Linda's Sew 'N So, and help sew on the "Linus Project" labels. Local volunteers are asked to help at the West Fayette store from 10 a.m. -4 p.m. "We're so pleased to be a part of this," says Huston, who also operates a store in Piqua.
The Hustons joined the project three years ago when one of the dealers they purchase sewing items from, Janome America, decided to support the project. Again this year, Janome is holding a raffle at each store affiliated with the project for a computerized sewing machine, a $600 value, open to any person who donates a blanket. The drawing will be held the week after the Feb. 18 workshop.
Huston says a good majority of the blankets she receives come from groups such as the Piecemakers, a group of women who meet each month in Maria Stein and do craft projects together.
Since the national project debuted in 1995, more than 1.5 million blankets have been donated to children across the U.S. from 360 chapters. After Katrina struck the Gulf Coast, about 20,000 Linus blankets arrived there during a span of 18 days.
Linda's Sew 'N So is part of the Project Linus chapter that stretches from Cincinnati to Van Wert County and from Muncie, Ind., to Springfield. Chapter Coordinator Mary Sue Davis of Dayton says she has gathered 4,500 blankets since she began in 1998.
Davis says the project is really two-fold: it helps not only the children, but the volunteers who make the cuddly blankets.
"We have widows, shut-ins, empty nesters -- it's great therapy for them. It's what they do at 2 in the morning when they can't sleep. It makes them feel good," Davis says.
Huston agrees.
"My husband and I wanted to find some way to be a servant of God, and I think we found it," she says. "These blankets are something we can give a child who's suffered a loss. It gives them something to cling to that no one can take away."
Most of the blankets donated to Project Linus from the Grand Lake area are given out at Children's Hospital, Dayton, she says. Davis also supplies the Red Cross with blankets as needed.
"Last February, after the workshop, I brought back 1,000 blankets from the dealers in my area," Davis says proudly. "This is the greatest thing I've ever been involved in."