ROCKFORD -- The Versailles Tigers used a big third quarter Friday night to break away and score a huge 66-54 Midwest Athletic Conference road win over the Parkway Panthers at Panther Gymnasium.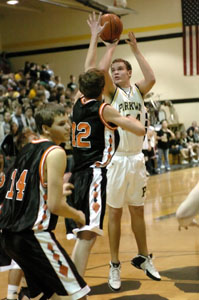 The Tigers' win also marked a victory over former Versailles coach Doug Hughes, who coached the Orange and Black last year.
With the win Versailles improves to 6-2 in the conference and finds themselves in a four-way tie in the loss column with two defeats, a half-game behind MAC leader New Bremen. Parkway falls to 2-5 in conference play
Leading 29-27 entering the second half, Versailles used scores from Adam Barga and Jeremy Shardo to take a 33-27 lead 63 seconds into the second half.
After the timeout, Parkway responded with a rally of its own as it scored six unanswered points, on two field goals and two free throws by Jordan Heckler to tie the game at 33-33 with 5:29 left in the period. Versailles regained control of the game as it scored six straight points, on a basket by Shardo and two free throws and a basket from Barga to take a 39-33 lead with 4:20 left.
A three-point field goal from the Panthers' Derik Snyder brought his team to within three at 39-36 and Parkway had two chances to cut into the lead more but turned the ball over on both trips.
After a basket from the Tigers' Matt Murphy made the score 41-36, Parkway had three chances to cut into the lead but again came up empty as it missed four shots over a three-minute span.
With 1:36 left in the period, Jayson White found Shardo underneath the basket for a conventional three-point play to make the score 44-38. As a result of the foul call, a technical foul was called on Hughes which resulted in three more free tosses from Shardo to make the score 47-36.
"Our guards did a nice job of spreading the floor and attacking the basket," said Versailles first-year head coach Dave Peltz. "We put a little pressure on them defensively and we were able to create some turnovers. We came away with a big win on the road in the MAC against a team with a winning record and that's huge."
"We really dug ourselves a hole there to start the second half," said Hughes. "I thought Versailles came out with great defensive intensity to start the half and they really got after us and they created some turnovers.
"We found ourselves down 33-27 and then I get the technical and it took us out of the game," continued Hughes. "I have to show more control and not react to a call quite like I did tonight. I thought this was a game that got away from us emotionally from a coaching aspect. I thought the kids played through and did a nice job in a hard fought game."
Parkway closed to within eight, 49-41, before the end of the period as Jason Thompson hit three free-throw tosses and Mark Snyder scored inside.
Parkway closed to with five at 51-46 with 6:25 left in the game on a Thompson free toss and again at 53-48 on a Thompson basket with 5:38 left.
After a three-point play by Barga made the score 56-48, Parkway closed to five one last time at 57-52 on two Mark Snyder free throws with 3:04 left.
That was to be as close as the home team was to get as Versailles closed the game with a 9-2 spurt.
Shardo paced three Tigers in twin figures with 21 points. Barga added 18 points and 10 rebounds while Zac Richard chipped in 16 points.
Mark Snyder led Parkway with a game-high 25 points and added 12 rebounds.
Parkway is back in action tonight as it travels to the Elida Fieldhouse to take on Spencerville. Versailles returns to action Friday as it plays host to St. Henry in a marquee MAC showdown.
Phone: (419)586-2371, Fax: (419)586-6271
All content copyright 2006
The Standard Printing Company
P.O. Box 140, Celina, OH 45822