By Shelley Grieshop
sgrieshop@dailystandard.com
MINSTER -- The enticing smell of chocolate fondue mingles with high levels of testosterone in the kitchen at Haus der Eleganz in Minster.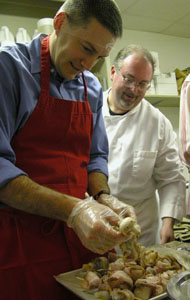 Five husbands, with hearts as big as appetites, arrived late Saturday afternoon to learn how to prepare an elegant Valentine's dinner for their wives who will join them hours later. The men -- longtime friends who graduated together from Minster High School in 1986 -- are wrapped in aprons and ready for duty.
"They trust us with knives," announces Mark Oldiges, sounding somewhat surprised at the thought.
Oldiges says he's really no stranger to the kitchen, "I cook a lot, actually," he adds, as the other men snicker behind him.
Business owner Becky Schmiesing, whose own husband, Denny, joins the group a few hours later, is on hand with Chef Matt Baker to help the men prepare the five-star menu. The couples will dine on beef tenderloin, crab puffs, peppered-bacon wrap-ped shrimp, fresh vegetable medley, sea scallops and other delicious upscale entrees. Becky Schmiesing has offered the cooking class previously but never with this quartet of fun-loving men, she says.
"This is a really fun group tonight," she says with a laugh, as the men in the small kitchen behind her mock each other's cooking skills.
"I never took home ec in school so I decided to do this," Sean Dorsten says, wearing a full, bright-red apron.
On one end of the kitchen, Shawn Sharp stirs the chocolate fondue for fruit dip, mumbling under his breath how the town dentist shouldn't really be caught doing this task.
Heath "Herbie" Hegemann, a lawyer, shows off one expertise you'll never see him do in the courtroom.
"Just watch me crack open an egg with one hand," says Hegemann, who skillfully performs the duty with no spillage.
Three of the men get instructions from Baker on how to prepare crab puffs that will be topped with a black bean salsa before serving.
"Have you ever seen a 300-pound man make puffs?" asks Hegemann with a grin.
Steve Eiting begins adding a few pinches of salt to the mix that will cover the hearty Rosemary redskin potatoes. It's clear he's been watching the food network on cable television.
"Bam!" Eiting yells out as Hegemann, holding a bag full of spices, cheers him on.
Eiting explains why he's the only person in the kitchen wearing a hair net.
"I know if there's a hair in the food, it's not going to be mine," he says in a serious yet sarcastic tone.
As soon as Baker mentions fresh mushrooms need sliced, the men's eyebrows raise.
"Mushrooms are aphrodisiacs. Use as many as you can," he instructs his students.
As the shrimp are brought out to be wrapped in bacon, it's discovered that Oldiges mistakenly removed the little creatures' tails too soon.
"I can't tell where the tail is -- oh, cause there is none," Steve Eiting says, glaring at his friend.
The men toy with each other constantly about their cooking skills as the afternoon turns into evening.
"My kids call me Chef Boy Ar Dee," Eiting says.
"I'm here because my kids are sick of eating mac 'n cheese," Dorsten adds with a laugh.
An hour before the wives arrive, a radio is turned on and the men crank up their efforts a notch. Becky Schmiesing is impressed by the young chefs who now seem as comfortable in the kitchen as they were together on the Wildcats' football field years ago.
"Can you imagine what their teachers had to put up with?" she asks with an exhaustied smile.
The men don't answer. They're too busy adding extra mushrooms to the last entree.