By Gary R. Rasberry
grasberry@dailystandard.com
COLDWATER -- Without a true tournament to decide a champion, the mantle of the top wrestling team in the Midwest Athletic Conference came down to a triangular match on Saturday night at The Palace in Coldwater.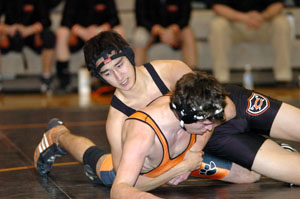 In front of a boisterous crowd for the teams in the last matchup, Coldwater and Versailles looked to settle the question after both teams defeated St. John's in earlier matches.
The Cavaliers responded, winning the last four bouts of the night to beat the Tigers 37-21 to go 2-0 in the tri and the bragging rights in the second year of the MAC three-way dance. Last season, it was Versailles winning at Tiger Gym to claim the bragging rights.
"Very competitive," said Coldwater coach Chuck Alig. "Any sport in the MAC -- there's only three teams here, but they take pride in their sport -- is going to be competitive."
Coldwater proved to be the most durable. Only in two times on the evening did bouts not go to the full six minutes. Coldwater suffered a pin in each match with St. John's and Versailles. "We tell the kids if they want to win duals, you can't get pinned," said Alig. "And when you get the pins, you have to take advantage of them. We only gave up two pins all night. That goes a long way to win the match."
Things started out well for the Cavaliers in the final match of the night. Nate Sides opening things up at 145 pounds with a 4-2 decision on Alex Cox. Versailles countered as Ryan Schmitmyer, beat Jeff Sides, filling in for an injured Andy Schmidt, 5-1 to tie the match at 3-all. At 160, Ross Jansen scored a late reversal to force overtime on Dave Coons. Quickly in the 60-second session, Coons got the takedown for the 9-7 decision.
Tyler Kunk scored the first extra point win, taking down and releasing Cody Grieshop several times to get the 13-4 major decision. Versailles' veterans quickly picked up nine points to get the 15-7 lead in the next two matches. Russ Beisner scored early and often to beat Lucas Homan 10-4 at (Continued from page 1B)

189 pounds. Alex Davis followed up with a pin on Tyler Johnson in 2:35. Adam Grieshop beat heavyweight replacement Mitch Bohman in 52 seconds to cut the Tiger lead to 15-13.
As the bouts went from the big guys to the little guys, the Tigers tried to expand their lead. Curtis Dirksen scored a 9-6 decision despite Matt Grandstaff rallying late with an escape and takedown. After Coldwater went up 21-19 on a void at 112, Andy Bruns let a 5-0 lead through two quarters stand up with a 7-2 win at 119 to put the Tigers back up by two.
At this point, Coldwater's leadership took over. Kenny Platfoot scored a 9-4 decision to put the Cavaliers up for good at 22-21, Gregg Homan pinned Matt Knapke in five minutes to make it 28-21, meaning Versailles needed at least one pin to stay alive. Marty Hemmelgarn made the point moot, pinning Aaron Coons in 3:45 to ice the match at 34-21. Bryce Schlater ended the night for Coldwater with a 9-5 decision.
"Coldwater has just got a great team," said Versailles coach Bill Roll. "I wish them the best of luck. Chuck has a great dual meet here. Big crowd, a lot of fun. That's what it's all about."
It is likely that wrestlers from all three teams will meet up again in two weeks at the Division III district tournament at Fairmont. Coldwater and St. John's head to Lima Central Catholic this weekend for its sectional while the Tigers travel to Covington for its sectional.
Phone: (419)586-2371, Fax: (419)586-6271
All content copyright 2006
The Standard Printing Company
P.O. Box 140, Celina, OH 45822