Compiled by Gary Rasberry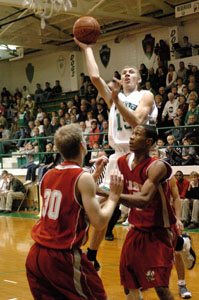 and Randy Bruns

Celina snapped out of its funk and ended a five-game losing streak, dominating the second half to beat Toledo Central Catholic 64-55 at the Fieldhouse on Celina Athletic Hall of Fame Night.
The Bulldogs improve to 6-11 with the win as the Irish headed back north with their record even at 8-8. With inductees and former hoops standouts Chris Reichert and Kurt Potkotter looking on, the Bulldogs stayed out in front early with a 14-12 first quarter and a 23-21 halfime lead before breaking out in the second half, outscoring TCC 17-13 in the third quarter to lead 40-34, then cranking up the offense in the fourth quarter in outscoring the Irish 24-21 to come away with the win.
The Bulldogs took advantage of the foul line, especially in the final quarter when Celina went to the line 20 times. Brian Dorsten shot 10 free throws in the final eight minutes, making eight. For the game, Celina was 33-of-38 (86.8 percent) from the stripe and 16-of-20 in the fourth quarter. TCC, on the other hand, went to the line just 10 times, making seven.
Scott Luthman paced four Bulldogs in double figures with 16 points. Andy Muhlenkamp added 14 points. Dorsten finished with 12 with Derek Gagle chipping in with 11. Rashard Burton paced the Irish with 17 points. Matt Collins added 11.
Celina finishes the road portion of the schedule on Friday, traveling to Defiance for a battle of the Bulldogs. Celina returns home on Saturday to face Bob Seggerson's Lima Central Catholic Thunderbirds.

BOX SCORE
TCC (8-8)
Collins 2-5-11, Lehman 2-0-5, Jansen 2-0-6, Boyle 4-0-9, Walker 1-0-2, Burton 8-1-17, Bastion 2-1-5. Totals 21-7-55.

CELINA (6-11)
Dorsten 1-10-12, Post 0-2-2, Luthman 4-7-16, Gagle 3-4-11, White 0-1-1, Loughridge 3-1-8, Muhlenkamp 3-8-14. Totals 14-33-64.

Score by Quarters
TCC 12 9 13 21 -- 55
Celina 14 9 17 24 -- 64

3-Pointers: TCC: Collins (2), Jansen (2), Lehman, Boyle. Celina: Luthman, Gagle, Loughridge.

Flyers win another buzzer-beater
Marion Local needed some late-game heroics from sophomore Chris Stucke Saturday night to come from behind to knock off Lehman by a score of 51-50. The win snapped Lehman's seven-game winning streak.
Stucke drained a three-pointer to tie things at 49-apiece with 18 seconds left, but a free throw put the Cavaliers back up by one with 11 ticks remaining.
Curtis Moeller then missed from the baseline but Stucke got the carom and banked it in with a second left to give the Flyers the win.
Marion took its first lead early in the fourth quarter but saw Lehman reel off seven straight points to get back out in front by five. The visitors trailed by five with a minute remaining but a three-pointer by Mitch Thobe and some shaky foul shooting by Lehman set up Stucke's furious finish.
The Flyers struggled again from the free throw line as they converted on just one of nine attempts, but eight three-pointers allow them to stay in the game.
Stucke led Marion with 16 points and Thobe tossed in 13, while Kyle Corbin paced Lehman with 26 markers.
Marion returns to MAC action Friday with a trip to the Barn to take on New Knoxville.

BOX SCORE
MARION LOCAL (5-11)
Thobe 5-1-13, Cu. Moeller 3-0-8, Co. Moeller 2-0-4, R. Stucke 1-0-2, C. Stucke 6-0-16, Bertke 2-0-4, Hartings 1-0-2, Schwieterman 1-0-2. Totals 21-1-51.

LEHMAN (9-9)
Schmitz 1-2-4, Schlater 3-2-8, Sargeant 2-2-6, Westerheide 1-1-4, Slattery 0-2-2, Corbin 10-5-26. Totals: 17-14-50.

Score by quarters
Marion Local 4 16 16 15 -- 51
Lehman 12 15 9 14 -- 50

3-Pointers: Marion Local: C. Stucke (4), Thobe (2), Cu. Moeller (2). Lehman: Westerheide, Corbin.

(Continued from page 1B)

JV Score: Marion Local 51-39.

Redskins romp Cougars
St. Henry dominated in the first half to pull away and beat Van Wert 53-33 in the last trip to the Cougar Den for the Redskins. The Cougars move to their new school and gym next season. St. Henry improves to 16-2 on the season as Van Wert drops to 9-8.
The Redskins led 17-8 after the first quarter and blew the game wide open with a 13-4 second quarter to take a 30-12 lead into the half.
Nine Redskins in all scored in the game. Kurt Huelsman led the way with 17 points with Toby Boeckman adding nine.
Chris Morrow and Bret Leon led the Cougars with eight points each.
St. Henry is at Versailles on Friday.

BOX SCORE
ST. HENRY (16-2)
Boeckman 4-1-9, Griesdorn 1-0-3, Huelsman 7-3-17, Niekamp 1-0-3, Post 2-0-6, Puthoff 1-0-3, Ranly 2-0-5, Thobe 2-0-6, Werling 0-1-1. Totals 20-5-53.

VAN WERT (9-8)
Brown 2-0-4, Heppeard 0-1-1, Kline 0-2-2, Klinker 1-2-4, Leon 4-0-8, Morrow 2-2-8, Smelser 2-2-6. Totals 11-9-33.

Score by Quarters
St. Henry 17 13 10 13 -- 53
Van Wert 8 4 9 12 -- 33

3-Pointers: St. Henry: Post (2), Thobe (2), Puthoff, Ranly, Griesdorn, Niekamp. Van Wert: Morrow (2).

Cavs down Wildcats
Just as they have over the years on the football field, Coldwater had a solid game against Kenton on the basketball court.
The Cavaliers put three players in double figures to beat the Wildcats 67-55 in Hardin County to pick up their seventh win of the season. Kenton, who snapped a long league road losing streak on Friday, fall to 7-11.
Mike Lefeld had a career night against the Wildcats, putting up a team-high 22 points for Coldwater. Brady Geier added 14 with freshman Cory Klenke finishing with 10.
Kenton 6-8 freshman Garrick Sherman led all players with 25 points.
Coldwater hosts New Bremen in conference action on Friday.

BOX SCORE
COLDWATER (7-9)
Klenke 10, Lefeld 22, Hoyng 3, Pleiman 6, Evers 7, R. Geier 2, B. Geier 14, T. Brunswick 3. Totals 25-12-67.

KENTON (7-11)
Parshall 9, Heilman 2, Leffe 3, Ch. Barnes 7, Ca. Barnes 7, Sherman 25, Pettit 2. Totals 22-9-55.

Score by Quarters
Coldwater 18 11 11 27 -- 67
Kenton 7 8 17 23 -- 55

3-Pointers: Coldwater: Klenke (2), Lefeld (2), Evers. Kenton: Parshall, Legge.

Brackman big in Cardinals win
Jackson Center had a choice. Either guard all the outlets Scott Brackman could dish off to, or guard him to keep him from scoring.
The Tigers chose the former and regretted not doing the latter.
Brackman, the area's top assist and steal man, scored 21 points as New Bremen rolled past Jackson Center 70-42 in Shelby County on Saturday. New Bremen rolls to 15-3 with the win.
As the Tigers tried to keep an eye on Scott Steineman and Allan Webster, that left Brackman and Brian Schwartz open. Schwart added 16 points as Steineman was held to just seven points and Webster eight points.
A 21-9 third quarter allowed the Cardinals to pull away from the the Tigers.

BOX SCORE
NEW BREMEN (15-3)
Imwalle 2-0-5, Webster 3-0-8, Brackman 8-0-21, Schwartz 6-1-16, A. Garman 1-0-2, Steineman 3-1-7, Brown 1-0-2, Schnelle 2-0-4, Wente 1-1-3, Hartwig 1-0-2. Totals 28-3-70.

JACKSON CENTER (5-14)
Clinehens 4-2-10, B. Gloyeske 1-0-2, Mann 4-2-10, Gehle 3-2-8, Gloyeske 5-0-12. Totals 17-6-42.

Score by quarters
New Bremen 17 16 21 16 -- 70
Jackson Center 12 11 9 10 -- 42

3-pointers: New Bremen: Brackman (5), Schwartz (3), Webster (2), Imwalle. Jackson Center: M. Gloyeske 2.

JV score: New Bremen 47-27.

Panthers fall to Bearcats
In a battle of teams that head to the Division III sectional at Elida, Parkway played close with Spencerville through the first half, only to have the Bearcats pull away in the second half for the 80-57 win. The game, a home game for Spencerville, was played at the Elida Fieldhouse, where both teams will play the sectional.
Parkway led 41-40 at the half, but the Bearcats, who received the second-seed at the sectional, outscored the Panthers 17-8 in the third quarter to lead 57-49. In the fourth quarter, it was all Spencerville as the Bearcats outscored the Panthers 23-8.
Logan Nourse led a balanced Bearcat attack with 20 points. Isaac Bowers and Brent Cook each added19 with Steve Rider finishing with 12.
Mark Snyder led Parkway with 23 points. Derek Snyder added 21.

BOX SCORE
PARKWAY (9-8)
M. Snyder 10-3-23, Heckler 0-4-4, D. Snyder 8-0-21, J. Hamrick 0-2-2, Thompson 1-1-3, Jo. Fisher 2-0-4. Totals 21-10-57.

SPENCERVILLE (15-2)
Bowers 7-3-19, Cook 7-4-19, Nourse 7-3-20, Horner 2-1-5, Wisher 0-3-3, Wolf 1-0-2, Rider 5-1-12. Totals 29-15-80.

Score by Quarters
Parkway 13 28 8 8 -- 57
Spencerville 19 21 17 23 -- 80

3-Pointers: Parkway: D. Snyder (5). Spencerville: Nourse (3), Bowers (2), Cook, Rider.

JV score: Spencerville, 49-36.

GIRLS BASKETBALL
Rockets roll past Wildcats
After a half of close action, Minster suffered a power outage in the third quarter, getting outscored 15-1 in the quarter as Anna rolled to a 54-32 win in non-conference action. The Rockets improve to 14-5 with the win as Minster falls to 7-12.
The score was tied at 24-all at the half, but Minster managed just one free throw by Jenna Blackburn in the third quarter as Anna pulled away.
Sarah Schulze led the Rockets with 23 points.
Lisa Muhlenkamp paced Minster with eight.

BOX SCORE
MINSTER (7-12)
Watercutter 2-2-6, Spieles 1-0-3, J. Quinter 1-0-2, Blackburn 2-1-6, Gruber 3-1-7, Li. Muhlenkamp 3-2-8. Totals 12-6-32.

ANNA (14-5)
Ly. Fogt 3-0-8, Bensman 1-0-2, Hoying 2-0-5, Heitman 0-2-2, Billing 2-0-4, Ly. Fogt 3-0-7, Schulze 7-7-23, Stewart 1-1-3. Totals 19-10-54.

Score by Quarters
Minster 15 9 1 7 -- 32
Anna 13 11 15 15 -- 54

3-Pointers: Minster: Spieles, Blackburn. Anna: Schulze (2), Ly. Fogt (2), La. Fogt, Hoying.

Redskins down Tigers
St. Henry improved to 7-11 on the season with a 69-50 win over West Liberty-Salem on Saturday at St. Henry. The Tigers end the regular season at 14-6.
Gail Hartings led St. Henry with 20 points. Kayla Lefeld added 13 with Brittany Post scoring 12.
The Redskins shot 54 percent from the field in the contest.
St. Henry are at Wapakoneta on Tuesday before wrapping up the regular season on Thursday with a non-league game at Waynesfield-Goshen.