By William Kincaid
wkincaid@dailystandard.com
A state legislative proposal that puts driver restrictions on Ohio teenagers does not sit well with many local teens.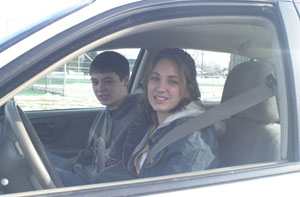 In an effort to curb teenage-related driving fatalities, the Ohio AAA has officially sponsored House Bill 343 -- a proposed state law that would have teenagers driving under a probationary license until they are 18 years old.
According to a national study released by the AAA, in Ohio there were 1,173 fatalities in crashes involving teenage drivers 15 to 17 years old from 1995 to 2004 -- tying Ohio at fifth in the nation for such statistics.
Therefore, the proposed legislation would change the current law by imposing restrictions.
Teenagers would have to be 16 years old, instead of 151Ú2, to obtain their learner's permit. And then they would be driving with a probationary license from age 161Ú2 until 18, when they could receive a regular license. Currently, a probationary license is issued at age 16, with a regular license given at 17. If the proposed law were to be enacted, teen drivers with probationary licenses would not be able to drive from midnight-6 a.m. unless with a parent. The drivers also would only be able to have one non-family passenger, or just one friend, in their automobile at all times.
Currently, teenage drivers with probationary licenses cannot drive from 1 a.m.Ð5 a.m. unless they are with a parent. Also, they can only have as many passengers as the number of seat belts available in their automobile.
The Daily Standard went to Celina High School last week to see how local teenagers felt about House Bill 343 and how it would affect their lives.
"I have a job," said 16-year-old Celina High School student Shelly Reichard, who doesn't get off work until midnight. "How am I supposed to get to work and back if my parents aren't home after midnight?"
Reichard said she thought the proposed law was stupid, as it would hurt students who are working to save for college. She asked how students who deliver pizzas would continue working.
Kyle Smith, another 16-year-old at Celina High School, is also opposed to the proposed law.
Smith said he knows many students who carpool to both school and work. If House Bill 343 is passed by the Ohio General Assembly, Smith said many teenagers would have to drive separately because only one friend would be allowed in the car.
This could put a burden on students who live in rural areas and on families, as gasoline prices continue to rise.
Supporters of the bill, such as State Rep. Tom Raga, R-Mason, and State Sen. Gary Cates, R-West Chester, believe such changes would reduce the multitude of lives lost in teenage-related crashes and accidents.
Phone: (419)586-2371, Fax: (419)586-6271
All content copyright 2006
The Standard Printing Company
P.O. Box 140, Celina, OH 45822