By Shelley Grieshop
sgrieshop@dailystandard.com
As older troopers retire and others get called to war, the Ohio State Highway Patrol is concentrating on replenishing its forces.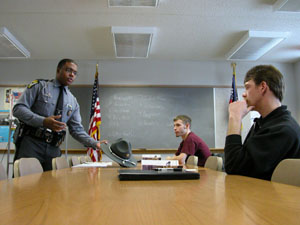 Trooper Anthony Brady, a field recruiter based at the Defiance post, says the organization has changed its way of thinking in recent years to help draw new recruits.
"I think we've become more community-oriented, more family-oriented," Brady says.
In the past, troopers typically were assigned to areas other than their hometown. Officials thought it would be difficult for troopers to patrol an area where their next traffic stop could bring them face to face with a relative or friend. But recently they've found the positives of assigning a trooper near his home outweighs the negatives.
"We're finding it's easier to train people who are familiar with their own area, the roads and such," he explains. On Friday, Brady made his routine appearance at the Wapakoneta post to meet men and women interested in becoming state troopers. Todd Homan, 20, a 2004 Coldwater High School graduate, came to hear what Brady had to say.
"I've been interested in the Ohio State Patrol since I was about 5 or 6," says Homan, who now resides in Celina.
Homan says he used to watch the patrol cars go by his house while growing up along state Route 29 and pictured himself in the crisp uniform and hat.
"I'm pretty certain this is what I want to do," he adds.
Another interested candidate, Wayne Dooley, 30, also of Celina, says he's had the desire to join some area of law enforcement for about 10 years now.
"I guess I've always just wanted to 'protect and serve,' '' he says, grinning about the cliche.
His brother-in-law is an Allen County Sheriff's deputy and his brother is in Allen County's Explorer program, a mentor experience for younger men and women interested in law enforcement.
If Dooley wants to be a trooper, he must make his mind up soon. Applicants must be between age 21 to 34. Other qualifications include U.S. citizenship, Ohio residency, a high school diploma or G.E.D. certificate and a valid driver's license.
Brady tells the candidates that troopers do much more than hand out traffic citations. Locally, they handle criminal matters, too, even though their expertise is focused in accident investigations.
"We handle so much more than people realize," he says.
The Ohio State Highway Patrol is responsible for riot control and other civil disturbances, and all incidents on the grounds of state universities such as the local Wright State University-Lake Campus in Celina. Aircraft crashes, all incidents on turnpikes, state prisons, driver's license examination stations and vehicle inspections including school buses all come under their jurisdiction.
"There's a lot going on under this Stetson," Brady says, pointing to his hat.
Also, the governor of the state of Ohio, his mansion and the State House are the responsibility of the state highway patrol, Brady says to the amazement of the candidates.
The state patrol follows military standards, which are reflected in its uniform and mannerisms. They must be fit. To qualify, body fat, flexibility and grip strength all must meet specific requirements per gender. For example, a male age 21-29 can have just 19.5 percent body fat; females of the same age category can have no more than 25.4 percent.
A variety of tests are given during the application process including a polygraph and a thorough background check, Brady says. Written tests in mathematics, reading comprehension, grammar and report writing must be passed.
Troopers can retire after just 25 years of service.
Brady describes the job as rewarding and hopes anyone interested will contact him for more information.
"It's a great job with a great purpose," he adds.