By Ryan Hines
rhines@dailystandard.com
ST. MARYS -- An 11-0 run to end the game turned a close game into a lopsided win for Marion Local as the Flyers went to McBroom Gymnasium and picked up a 49-37 win over St. Marys on Tuesday in a nonconference contest.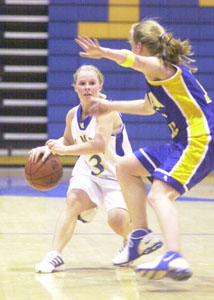 Marion Local led 38-37 with 6:18 to go in the game, but St. Marys didn't score the rest of the way and the Roughriders missed seven straight shots and turned the ball over three times on their final 10 possessions.
"We hadn't been beaten in the fourth quarter all season long," said St. Marys first-year head coach Tim Niekamp. "After looking at the stat sheet, the fourth quarter had been our best quarter of basketball all year long and that wasn't the case tonight. We were in good shape with about five minutes left to go but we couldn't knock shots down. We had some good looks in the lane late in the game, but they just didn't fall for us. In past games, we've been able to manufacture some breaks for us, but tonight we weren't able to manufacture any breaks late in the game.
"Marion Local was very sound down the stretch and that's a sign of a well-coached basketball team," added Niekamp. "They worked the high-low game well and Maria Moeller is a tremendous basketball player."
"I was waiting for the run that ended the game for the first 24 minutes of the game," said Marion Local head coach Treva Fortkamp. "If you can hold a team to 37 points, you will win a lot of games. I think that we executed much better in the fourth quarter. It was a physical game and I think that maybe fatigue settled in a little bit for St. Marys (used only six players total until the final seconds of the game)." Tuesday's contest pitted the co-champs of the Western Buckeye League against the co-leaders of the Midwest Athletic Conference and it was a tight game until the final stanza.
With this win secured, Marion Local can now turn its attention to Thursday's colossal showdown between the Flyers and the New Knoxville Rangers with the MAC title on the line.
"St. Marys has a nice ball club and it's hard to prepare for a game against a team like them and then to prepare for New Knoxville in just two practices," said Fortkamp. "We have one day now to prepare for New Knoxville and we know that they aren't 18-1 for nothing. It should be a great game, this is what the MAC is all about, coming down to the final game. Hopefully we can build on tonight's win for Thursday because we'll have to bring our A-game to win against New Knoxville."
St. Marys held as much as a six-point advantage in the first quarter, but the two teams exchanged lead changes throughout the rest of the contest until the game-changing final stanza.
Marion Local did most of the fourth-quarter damage from the free-throw line by drawing fouls from using its high-low post offense. The Flyers scored seven of their final 11 points from the charity stripe.
"Marion made it very difficult for us offensively the whole game but I think that it may have been a little fatigue in the fourth quarter because we don't go with a deep bench, but we've been doing that all season long," pointed out Niekamp.
OSU-bound Maria Moeller led the Flyers with a game-high 22 points while Holly Fortkamp added 10 points to go along with Jenna Barhorst's nine markers.
Kerri Imwalle led St. Marys with 13 points while Stephanie Platt added eight points, all in the first half.
Marion Local's biggest lead was just five points until the Flyers put the game away in the fourth quarter.
While the Flyers will be looking to win the MAC outright on Thursday with a win over New Knoxville, St. Marys will play its season finale on Thursday against Lima Central Catholic.

Phone: (419)586-2371, Fax: (419)586-6271
All content copyright 2006
The Standard Printing Company
P.O. Box 140, Celina, OH 45822