BRYANT, Ind. -- Ohio license plates outnumber Indiana ones in the parking lot of Bear Creek Crossing on Thursday afternoon as the Hoosier Lottery machine inside the business rumbles into overdrive.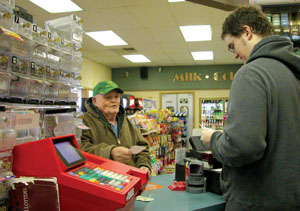 It's a dream, a hope beyond reality, that brings Ohioans 10 miles into the Hoosier state to gamble for the record $365 million jackpot up for grabs Saturday night in the Powerball game. The cash option could net a sole winner a whopping $177.3 million.
"We'll have very long lines by Saturday, I'm sure," says part-time clerk Jason Meinerding, keeping a frequent tap on the buttons of the bright red lottery machine on the counter.
After no one won the $300 million jackpot drawing Wednesday, lottery officials placed Saturday's top prize at $365 million -- an all-time lottery record across the nation. The current Powerball run began Dec. 17.
Powerball is played in 28 states, Washington, D.C., and the U.S. Virgin Islands. Although Ohio does not participate, every state surrounding it does. Each play costs $1 and consists of five numbers from 1-55 and one Powerball number from 1-42. Numbers can be selected or chosen by Quick Pick (randomly). Drawings are every Wednesday and Saturday at 10:59 p.m. during the winter months; sales cease one hour prior.
Odds of winning the jackpot are approximately 1 in 146,107,962. About 70 percent of Powerball purchases and 70 percent of Powerball winners are computer picks, officials say.
Ed Curts of Mendon drove about 30 miles to buy just $4 worth of tickets.
"It only takes one," he says before breaking into a smile.
Curts, 64, won $100 in the Powerball some time ago. He typically doesn't play until the pot gets high, he adds.
The smell of manure from the livestock trucks parked outside slowly creeps indoors as Meinerding verifies several winning tickets for Kenny Laux of Celina. Laux, an Indiana native, says he plays lottery games no matter which side of the state line he's on.
"I claim both states when the jackpots are high," he says with a laugh.
Meinerding prints out $100 worth of the pink and white tickets for several customers including Bruce Stinebaugh of Wapakoneta, who heard about the giant jackpot on the radio. He made the drive on behalf of several relatives and friends, he says.
The young clerk looks out the window and grins as more customers arrive.
"You can tell the Ohio people by where they park. They pull into a parking space expecting to be here a while," Meinerding says. "Indiana people, they park anywhere."
Employees at J&M Manufacturing in Fort Recovery -- a stone's throw from the Indiana line -- pool their dollar bills to increase their odds of winning. Company salesman Curt Rammel says about 30 of the 75 workers at the plant throw in $5 each week for the lottery.
"I probably will, too, if they get down here to the office for my money," he says.
Co-workers tell Rammel they'll be singing the "Take This Job and Shove It" song if they win big -- and that's without the traditional two-week notice. But not Rammel.
"I'd give a two-week notice, but it would be a very slow two weeks," he says with a laugh.
"What would you do if you won?" was the topic of conversation this week among patrons and bartenders at the Chatt Bar south of Rockford. Longtime bar owner "Barney" Lehman bought tickets last week for three of his workers, but they failed to bring riches. As for Lehman, he's not interested in becoming a millionaire.
"I wouldn't know what to do with all that," he says. "That's way too much money for me, I'd have to give it away."
His workers were so excited about the possibility of becoming rich, he's contemplating buying them tickets again for Saturday's drawing.
"They could buy the bar and then I could retire," he laughs.