By Ryan Hines
rhines@dailystandard.com
MARIA STEIN -- What was supposed to be a tightly contested contest to determine the Midwest Athletic Conference title quickly turned into a blowout thanks to a powerful inside game by New Knoxville.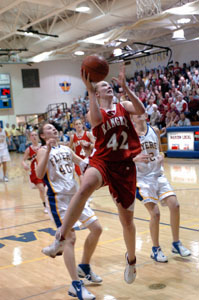 The Rangers rallied behind a big advantage in the post to win the MAC crown with a 45-30 lopsided victory over Marion Local at The Hangar in the season finale for both teams on Thursday all night.
"Poeple didn't believe that we could do this tonight," said New Knoxville head coach Tim Hegemier. "I told the girls that if you work hard enough, box out and just play our game that we'll be alright.
"Four years ago I was in the barn milking cows right now," added Hegemier. "That's where I was and I never dreamed that I would be in this position again. I have a great group of girls to work with and what else can I say about them. It's not all coach."
"You have to credit New Knoxville because they outplayed us in every facet of the game," acknowleged Marion Local head coach Treva Fortkamp. "I told the girls that they just outplayed us and that was the bottom line. We didn't play well, but you have to give credit to New Knoxville, they deserve the MAC championship. We have nothing to hang our heads about because we finished second and it was a tough league this year." Nicole Wright scored a game-high 18 points and added a game-best nine rebounds to ignite the Rangers' post play to a big advantage over Marion Local. Not only did Wright control play in the post, the Rangers also dominated the boards winning the rebound war 35-19 over the Flyers.
"Nicole is a very strong girl inside, she plays great defense and I think that a lot of people underestimate her," said Hegemier. "She can play with the biggest of them and she proved that tonight. I've been preaching rebounding all week long. The last three or four games we've been outrebounded and that was the key to the game tonight."
"I felt that we could win the league at the beginning of the season," said Wright. "It's an amazing feeling after also winning the MAC title in volleyball over Marion too. Two MAC championships for New Knoxville in volleyball and basketball really feels good. It just feels absolutely unbelievable."
Fortkamp was highly complimentary of Wright's play and very disappointed in the Rangers' decisive advantage in rebounds.
"Wright was phoenomenal," lauded Fortkamp. "She shut down Jenna (Barhorst) and she took it to us on offense. She has a quick first step and she used it to her advantage. We had no answer for her and we tried different people on her but they were able to find the mismatches. Rebounding has been a problem for us all year long and sometimes I think that we rely too much on our height inside and we don't look to check out. We talked about it before the game and we didn't do a very good job of it."
The Rangers' post advantage came against a Marion Local team that has plenty of size led by 6-3 twin towers, Jenna Barhorst and Megan Barhorst. New Knoxville made up for the height disadvantage with strength, as the Rangers played like the stronger and more aggressive team.
"We talked about all week in practice that we had to box out and rebound," said Wright. "We were ready for their height, we knew that it was coming and we just wanted to try and go strong to the basket."
"We just couldn't let eighter Barhorst catch the ball on the block because if they did, it was going to be two points with their height advantage," said Hegemier.
Whlile Wright dominated play in the post, teammate Kara Katterheinrich gave the Rangers a spark on the perimeter with 11 points, which inluded a trio of three-point field goals.
Marion Local's two-time All-Ohio point guard Maria Moeller was frustrated with the New Knoxville defense as the OSU-bound senior scored a game-high 10 points but shot just 4-of-17 from the field.
Both teams open sectional play on Feb. 25th at New Bremen. New Knoxville will play the winner of Fort Recovery and Spencerville while Marion Local awaits the victor from the St. Henry/Minster matchup.
Phone: (419)586-2371, Fax: (419)586-6271
All content copyright 2006
The Standard Printing Company
P.O. Box 140, Celina, OH 45822