By Janie Southard
jsouthard@dailystandard.com
Blogging is an Internet activity that attracts millions of teens worldwide, including many local kids.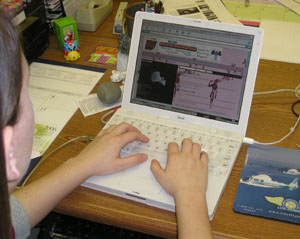 One upside is that these online journals are a way for kids to network with each other. One downside is anyone anywhere can tune in to the network and write whatever they want.
Blogs are a mixed bag that can easily go beyond the comfort level of school administrators and parents, as was the case in Celina just a couple weeks ago. A student wrote a blog bashing several other students.
Xanga.com is one of several interactive networks where kids can set up their own blog. It's free to anyone at least 13 years old and kids can post as many messages per day as they want to their own and other sites.
"They can say whatever they want, including comments about someone they don't like or vent anger about their parents and so forth. There is little if any monitoring. But, of course, it would really be almost impossible to monitor millions of (blogs)," Celina High School Principal Curt Shellabarger said. The name "blog" is a contraction of the word "Web log," which was coined in 1997. The contraction became popular in 1999, long before blogs took on their current popularity.
The Celina incident occurred in late January and involved a blogger who spoke of some fellow students as "puppets" and talked about controlling the puppets, having puppet shows. Although there were no overt threats on the blog, there was a certain foreboding and malignant tone regarding events that could take place at school the next Friday.
"And to those that have ever wondered, I have the MALICE ** the desier (sic.) to harm others ** Perhaps I will take this beyond the Internet," said a Jan. 26 Xanga posting by the Celina blogger known as Priest-notta-Saint.
This blog site, which also included some erotic poetry, is no longer active, although, the blogger could be using another name on another site.
The tone was sufficient to sound an alarm with Shellabarger, Superintendent Matt Miller and other school personnel. The Celina City Police Department, which checked out the blog and found nothing criminal, was called in and continued tracking it for several days.
That Friday found school administration in overdrive, according to the principal. Thanks to a teacher overhearing some students' conversation in the hallway Thursday, Shellabarger had "a pretty good idea who was involved" and talked with several students before Friday.
"We had teachers and myself in the hallways constantly watching all day that Friday," he said.
Absolutely nothing unusual happened, but it could have happened and happened quickly. Tragic incidents involving high school students appear too frequently in the national news.
Several parents who heard of the incident insisted their kids drop blogging, at least for a while.
Students are not permitted to blog during school hours and, if caught, a variety of disciplinary actions may be taken depending on the circumstances. At the least, parents will be contacted.
Celina school administrators view students' blogging as generally innocent and just a means of chatting with friends. Although Priest-notta-Saint did not reveal any students' names, the author said the prime suspects were all "good kids from good families."
"(Blogs are) what used to be called talking on the telephone," Miller pointed out.
Apart from the above incident, Miller's concerns focus on students posting their photos and personal information such as home addresses and information indicating when they are home by themselves.
"It's impossible to know who's reading your site. As I've said, there are millions and millions of postings (worldwide) to track," Shellabarger said. The reader could be thousands of miles away or within a 20-mile radius.
Xanga boasts more than 31 million users and was rated in January as the 23rd most popular English language Web site in the world. MySpace, a free social networking site, is the world's seventh most popular site and has more than 50 million users. Facebook has more than 6 million American college student accounts.
A 17-year-old Celina student talked with The Daily Standard about the puppet incident and blogging in general. Mike, not his real name, said he has been blogging on Xanga for about a year and thinks of it as kind of an online journal.
"To me, blogs are funny and should be really light. Just a record of your day. It's fun to read other people's blogs because you get to know them better. Like, if someone writes about their problems, you might be a little more sympathetic next time you run into them," Mike said in a private interview with the newspaper.
His circle includes about 20 friends, none of whom were involved in the late January incident at the high school. Mike believes he knows who Priest-notta-Saint is, but did not name any names.
He says the Priest's blogs began right after spring musical tryouts when students who didn't get the part they had hoped for were disappointed. He says Priest is one of those students.
"I think it's okay to vent anger, because everyone feels anger sometimes. It's normal. But this went from anger to personal attacks, which can get pretty bad because no one knows who you are," he said.
Well, maybe you can remain anonymous. In a grass poll of some local students, all said they knew the blogger's name and all agreed it was a female. But none would say the name even though they were assured the newspaper's policy would forbid printing the name.
As for Mike, he still says "hi" to the blogger when he meets her/him in the hallway.
"I don't really care. I don't know them that well, but I think the whole thing was stupid. They were just venting," he said. "Really I think kids my age take things too seriously."