By Ryan Hines
rhines@dailystandard.com
VERSAILLES -- St. Henry's post play took over early and Versailles could never find the shooting touch as the Redskins cruised to a 61-48 win over the Tigers on the road in Midwest Athletic Conference action on the road at Versailles.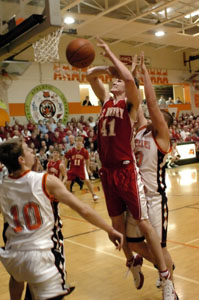 St. Henry's combo of Kurt Huelsman and Toby Boeckman controlled the paint in the early going and never let up as the Redskins' combo combined for 33 points and 22 rebounds. Huelsman, the Dayton-bound Redskins center, scored a game-high 23 points with three thunderous two-handed dunks to go with 10 rebounds while Boeckman added 10 points with a game-high 11 rebounds. Another St. Henry forward, Mitch Niekamp also hit for double figures with 13 points to go along with seven rebounds.
St. Henry's dominance in the post showed in the rebound numbers as well as the Redskins held a 42-27 advantage.
"Our whole team knew that this was a big game and I think that we all came out aggressive tonight and it showed, especially in the early going," said Huelsman.
Combine that with the fact that Versailles shot just 26 percent from the field and that equaled a long night for the Tigers. "With Huelsman and Boeckman in the post, they're tough to handle," said Versailles head coach Dave Peltz. "They had a good night offensively and they alter a lot of shots on the other end too. It ended up being a battle royal in the paint. They hit shots and we didn't, that was the story of the game. With their size, they have the ability to control the boards and the did that."
Other than committing 22 turnovers and shooting just 9-of-21 from the free-throw line, St. Henry skipper Joe Niekamp was happy with the way his Redskins played on the road in a hostile environment.
"I can't say enough about the effort that we gave tonight in a physical and tough environment," said Niekamp. "We could have made some better decisions with the basketball and we could have made more free throws to put the game away earlier, but I told the kids don't get me wrong, I'm not complaining because it was a great effort."
St. Henry set the tone for the game right from the start grabbing an 18-9 lead after the first quarter of play. During that first frame, Huelsman and Boeckman combined to score 12 points in an 8-of-13 shooting first quarter for the Redskins while Versailles shot just 3-of-15 from the field.
The Tigers' high-scoring guard combo of Adam Barga and Jeremy Shardo, combined to shoot just 1-of-8 in the first frame with just three points. The tough shooting night continued for the Versailles duo as Barga scored 18 points on 4-of-12 shooting from the field (he went 8-of-8 at the free-throw line) while Shardo hit for 11 points on just 4-of-19 shooting.
"The first thing that we wanted to do to them defensively was cut down their drives to the basket," said Niekamp. "They never were able to get any kind of inside game and that had a lot to do with our defense, with guys like Zack Thobe and Ryan Ranly. We rotated a lot of different guys on them and we got good efforts from everybody. They (Shardo and Barga) still got 18 and 11 points, but they really had to work for them."
"Their guards can afford to come out and chase down the opposing guard with the two bigs that they have in the paint," said Peltz. "We weren't hitting our three-point shots and we weren't hitting our medium-range shots either. I think that you have to have an extremely good night shooting if you're going to beat St. Henry and you have to be able to hit the outside shot and we didn't do that."
St. Henry was able to build its lead to 17 points at halftime and Versailles got no closer than 12 points the rest of the game as the Redskins controlled the game on both ends of the floor.
With New Bremen defeating Coldwater 52-37 to stay alone atop the MAC standings, St. Henry (17-2, 6-2 MAC) sits in a second-place tie with New Knoxville and Minster with one week left to play.
"We're more concerned with how we are playing right now, but if we get a little help in the league, that would be great, but we're really more focused on our play and just getting better," said Niekamp.
St. Henry will travel to Marion Local for the regular-season finale on Friday while Versailles hosts Brookville in the regular-season finale tonight.

Phone: (419)586-2371, Fax: (419)586-6271
All content copyright 2006
The Standard Printing Company
P.O. Box 140, Celina, OH 45822