By Gary R. Rasberry
grasberry@dailystandard.com
COLDWATER -- New Bremen went on a 9-0 run during a 41Ú2 minute stretch in the third quarter to break open a close game pull away from Coldwater for a 52-37 win at The Palace on Friday in a Midwest Athletic Conference meeting.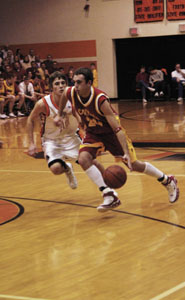 The win ensures New Bremen, 16-3 and 7-1, of no worse than a share of the MAC title -- the first since the 1997-98 season and third in school history. A win over Minster on Friday would make it the first outright championship for the Cardinals in the MAC. Coldwater falls to 7-10 overall and 2-6 in the MAC.
In the first half, Coldwater answered every run by the Cardinals, never trailing by more than five points. In the second quarter, the teams were tied at 16, 18 and 20 as the Cardinals led 25-22 at the break.
Coldwater went man-to-man against the Cardinals, putting Brady and Ryan Geier on Scot Brackman from the start. With Brackman unable to drive and dish out to open teammates, New Bremen's offense was a little off-kilter.
"(The plan was for) Brady and Ryan to just contain him," said Coldwater coach Mike Kanney. "Don't let him penetrate. He's a great passer. I thought the kids did a nice job finding their shooters in transition. We didn't allow (Brian) Schwartz to get his feet set. I don't think he had a three tonight (Schwartz, the area's top three-point shooter, was 0-for-4 from beyond the three-point arc)." With Schwartz bottled up, the Cardinals looked to sub Scott Schnelle to help out in the post land he responded with six of his eight points in the first half.
"I thought Scott was outstanding, giving us minutes off the bench," said New Bremen coach Mike Ernst. "Not only in scoring, but getting in there (pulling down five rebounds). He changed some shots and blocked some shots (four in the game)."
At the start of the third, a Coldwater bucket cut its deficit to one but Schwartz scored with 6:14 to go in the quarter to put the Cardinals back up three which was then followed by an Allan Webster deuce. Brackman then nailed a three-pointer to make it 32-24 before Schwartz nailed a pair of free throws to wrap up the decisive 9-0 run.
Ryan Geier nailed a three-pointer later on to get the deficit back to just four points at 34-30 with 1:35 left in the quarter, but New Bremen used its defense to produce offense, scoring seven points off three turnovers in the final minute to push the lead to 41-30 going into the fourth quarter.
"I think the key was we needed to slow down," said Ernst. "We were trying to do everything a little too fast in the first half. Even offensively, we didn't get anything going in the second half. I give (Coldwater) a lot of that credit.
"They guarded the snot out of us. They were really good offensively. I thought our defense created some easy baskets for us. Had we not been able to get those, I don't know how we would have scored. ... They were well-prepared for us. I give coach Kanney and his staff a lot of credit," said Ernst.
The Cardinals kept the momentum up in the fourth quarter as Steineman and Schwartz hit back-to-back buckets off Coldwater turnovers to make it 45-30. Coldwater managed to get it down to 10, but the Cardinals spread their offense and kept Coldwater at bay for the rest of the game.
"Defensively, we played well enough," said Kanney. "We just didn't take care of the ball offensively."
With one part of the goal achieved in winning part of the MAC title, the Cardinals now look to get the outright title next week at Minster.
"I wasn't here 7-8 years ago, so I never felt this before," said Ernst, who played and coached at Minster before coming to New Bremen. "It feels awfully good. As we came in here, coach Cook (assistant coach Dane Cook) mentioned to me that the other titles weren't outright, we had to share. There's a goal for next week."
Steineman led the Cardinals with 20 points while Webster and Schwartz each had nine. Brackman was hounded all night, turning the ball over an uncharacteristic seven times in the game, but made up for the giveaways with five assists and six steals.
Gaston Pleiman had a solid night in the paint for Coldwater, finishing with 14 points and seven rebounds while Brady Geier added 12 points.
As the Cardinals have the weekend off to prepare for Minster, Coldwater has three road games in seven days to wrap up the regular season. Coldwater is at Wapakoneta tonight before heading to McBroom Gymnasium on Tuesday to face St. Marys.