By Gary R. Rasberry
grasberry@dailystandard.com
For a group of Celina swimmers, it will be a busy weekend.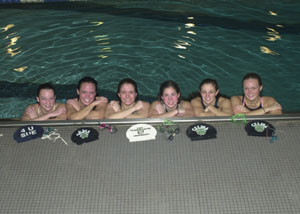 After getting a relay to the state meet for the first time last season, the WaterDogs will send all three relays to the state meet this weekend in Canton.
Five swimmers will work the 200-yard medley relay, the 200 freestyle relay and 400 freestyle relay on Friday and Saturday.
For Larissa LaRue and Kylie Samples, it's a return trip to state after being part of the 200 free relay team last season. They'll be joined by a pair of freshmen in Courtney McKirnan and Kirsten Samples in both the 200 and 400 free relays.
For the medley relay, the first event contested on Friday, Heidi Schollmeier will replace Kylie Samples to swim the backstroke for Celina. It was again a waiting weekend for the relays. Having not finished in the top three that earned an automatic bid to state, the teams and coaches had to wait until Sunday when the at-large spots -- based on the quickest non-qualifying teams from the other district meets around the state -- were announced.
The 400 free relay was expected to move on, having finished fourth at the district meet. When the call came over that not just the 400, but the other two relays had a ticket to Canton, things got a little more exciting.
Based on their times, all three relays will have an uphill climb to try and make the top 16 to earn a second swim (finals) in the tournament. The 400 relay has the 20th-ranked time of all 24 state teams. The 200 free and medley relays are ranked 21st.
"We were pretty much shocked when we found out," said LaRue, who will do the breaststroke in the medley relay. "It's really exciting. The others (the 200 free and medley) we got sixth (place), so we had two spots in front of us. We still made it out.
"We were all screaming (when the qualifiers were released). We were all excited."
For LaRue, the return trip for her and Kylie Samples this year should be a lot less nerve-racking in swimming at Branin.
"It won't be intimidating," said LaRue. "I'm hopefully not as nervous as I was last year."
Schollmeier joins the freestyle quartet with her speciality in the backstroke.
"I was excited when Larissa called me," said Schollmeier. "I woke my mom up screaming. I was totally surprised.
"I'm so honored to be a part of it. We thought we were right on the bubble."
Schollmeier was pushed for her spot in the relay by freshman Alicia Zacharias and Scholl-meier was very complementary of the freshman.
"She did a very good job. I was very nervous," said Schollmeier, who remarked. "She can have it next year."
Her goal for her part of the relay is simple.
"My goal is to break 30 (seconds) on my 50 (yard) split," said Schollmeier.
For the Samples sisters, senior Kylie and freshman Kirsten, the season has seen the two of them combine to help make the relays even stronger.
Kylie went to state last season, which helped give Kirsten some knowledge in what to expect this weekend.
"It's been great swimming with her," said Kylie. "They (Kirsten and fellow ninth-grader McKirnan) have been kind of a good mix. They're a little more high strung while Larissa and I are more relaxed. We balance each other out well."
"It's so exciting. I'm glad we got to be on the same relays," said Kirsten Samples, who will swim the freestyle leg of the medley relay. "Being her last year and my first year, it's just going to be fun."
Saturday is Kylie's big day in swimming both free relays. The senior is not overly concerned about the races being on the big level.
"At districts, I swam four (races) in a short time," said Kylie. "It gets you warmed up. It gets my muscles loose. I think it will be a good thing. I'm hoping for positive results from all our relays."
For the youngsters of the team, making it to the final weekend of the season in their first year is a great accomplishment.
"That was my goal from the beginning of the season," said Kirsten Samples. "I really worked hard for the whole year."
"I'm so excited to swim with the seniors we have now," said McKirnan, the butterfly specialist for the medley relay. "It was a lot of fun."
Swimming in all three Celina events is a big challenge for all the competitors, especially for the freshmen.
"All season we focused on the short relays (the 200 free and 200 medley)," said McKirnan. "We started the 400 and I was like 'I don't swim the 400.' We ended up seeing we had a pretty good time, so we tried for all three and made it."
For coach Matt May, getting all three relays to Canton was a pleasant surprise.
"To tell the truth, I didn't expect the other two to really make it out," said May. "Now that they're out, the girls have decided rather than just go down to state this year, they like to go down there and score some points. Our goal this year is to try and make the top 16. If we do that, we'll be really happy."
Eddie dives again
The other Celina representative, Eddie Craft, makes his second trip to Canton to take part in the one-meter diving competition.
Craft made All-Ohio last season in finishing 16th in the competition.
"It built a lot of my confidence up," said Craft during a Monday practice session. "This year I won't be as nervous going there. I'll be used to the facilities.
"I don't think it will be as bad (the nervousness). I think I still will be pretty nervous, but it will be a lot better this year."
The goal this season is simple -- make the podium.
For that to happen, Craft will need to finish eighth or better in the meet.
Craft earned the WBL title again this season and finished third to easily make the top five that automatically moved on.
"It was a lot of comfort (automatically qualifying) because a lot of divers were really good at districts," said Craft. "It's really hard to get in there."
Between last year and this year, Craft has worked to make his dives tougher to impress the judges.
"I got in a few harder dives," said Craft. "I've worked on my takeoffs a lot."
All that Jaz
St. Marys junior Jasmine Craft should easily know the best way to the Branin swimming facility after earning her third straight trip to Canton in her two specialty events, the 50 freestyle and 100 breaststroke.
"It's awesome," said Jasmine, lovingly called Jaz by friends and teammates. "It's so hard. The competition gets harder every year. It seems the other kids are faster and faster."
Craft did not have the waiting game that her friends from Celina had this weekend. With top three finishes in both events, Craft earned automatic bids in the events.
"It was so much better," said Jaz. "I was so relieved. Last year I had to wait. The pressure was off not waiting for it."
Craft finished 11th in the breaststroke to get an All-Ohio honor as a freshman, but missed out last year by taking 17th after the prelims and missing the B-Final.
"I hope I can keep my times down," said Jaz. "Everyone else has tapered (slowly lowered their times). I really haven't tapered yet."