By Shelley Grieshop
sgrieshop@dailystandard.com
Jeromie McNeilan has no memory of the crash in October that brought him so close to death.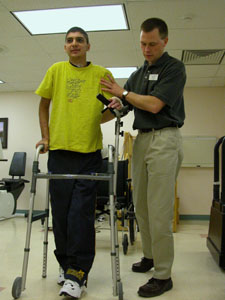 The 20-year-old Montezuma man can't recall the strong hands of the farmer who cut through his seat belt with a pocketknife and pulled him from the burning pickup truck.
"He told me I was conscious, but I don't remember any of it," says McNeilan, a 2003 Celina High School graduate who was driving alone that day.
What he does recall is painful -- both physically and mentally -- and perhaps too much for a young man to think about all at once. It brings tears to his eyes when he slowly describes the injuries that kept him hospitalized for four months and will plague him for years to come.
"I broke both femur bones," he says, explaining how surgeons placed rods in his legs for support. And that's only the beginning. Third-degree burns scorched about 30 percent of his body including the area between his knees and ankles on both legs.
Both wrists were broken as they struck the steering wheel. Also broken upon impact was his collar bone and jaw. All of his front teeth -- bottom and top rows -- were knocked out and cannot be replaced until his jaw, now secured by a steel plate, heals. He fractured an eye socket and eight other bones in his face and received stitches across his forehead for a deep gash.
A finger on his left hand was amputated, and he contends daily with a tracheotomy that doctors say should have closed on its own months ago, but has not.
He spent the first few weeks after the accident in an induced coma. The following weeks included doses of pain medication that kept him in a fog most of the time, he says. Lack of activity took its toll on his once muscular body. The former high school baseball player lost more than 60 pounds in four months.
The part-time job he previously held at a local carry-out provided no health insurance and his medical bills continue to mount. Family and friends have reached out to help with a fundraiser planned for March 18.
McNeilan, the only son of Jeff McNeilan of Montezuma and Irma Molsvery of Texas, slowly tells what little he remembers about the accident.
"I was on my way to a second job interview at PlastiPak (in Jackson City)," he says quietly.
No one knows what caused McNeilan to veer from the roadway into a tree and then a farm field where his truck burst into flames. But his longtime girlfriend, Abbey Kramer, is convinced there's a purpose to be found in the tragedy.
"It's hard to look at it that way, but we have to believe everything happens for a reason," says Kramer, who has become McNeilan's constant caregiver. "There's been so many wrecks with young people lately. Jeromie wasn't drinking and he doesn't think he was driving more than a few miles over the speed limit. It just happened. Maybe this is an eye-opener for other kids."
The couple believes McNeilan's life was saved by miracles that day, particularly from the farmer who happened to be sowing wheat in an adjacent field. Marvin Homan of New Knoxville spotted smoke and immediately grabbed a fire extinguisher from his combine before rushing to the scene.
"The truck was smoking so badly, the flames were probably three feet high, it was so hot," Homan says.
At first he couldn't see the young man struggling to get away from the fire in the truck cab. Then he spotted him and offered some comforting words.
"I told him to hang in there, 'You're not ready to go yet,' " Homan recalls saying.
Several women also stopped and helped bring water from Homan's house to extinguish the fire.
"A lot of people don't realize how close Jeromie came to not making it," Kramer says.
McNeilan, using a wheelchair and walker to combat the numbness in his legs, attends therapy several times each week. Doctors believe the good physical condition he was in prior to the crash and sheer will has made him a survivor.
Despite his progress, he tires easily. Just a few years ago his physical strength helped the Lakers cheer squad of Celina qualify for the national championships. Now he struggles to remove a sweatshirt without assistance.
The everyday obstacles bring his spirits down at times, but he hasn't given up hope for a full recovery. One of his goals is to attend college and earn a business degree.
"I've always wanted to own my own business," he adds with a rare smile.
Shortly before McNeilan's release from the Dayton hospital Feb. 9, Homan came to see him. It was an emotional visit for both. Together they cried as they spoke of the day their paths crossed.
"He told me a lot about what happened, how he still thinks about that day," McNeilan says. "I was really glad I got the chance to meet him and say thanks."