NEW BREMEN -- Tuesday night's Division IV sectional action at Cardinal Gymnasium featured a pair of blowouts, as a pair of area teams advanced in the postseason. While the first game was your run of the mill thrashing, the second went from a tight game to a laugher in a matter of minutes.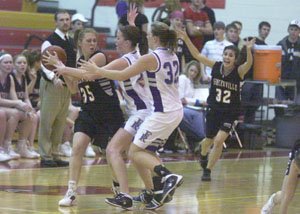 In the opener, the Fort Recovery Indians took control early and never looked back in drilling the Spencerville Bearcats by a score of 63-30. The Indians used tenacious pressure to take the Bearcats out of their comfort zone, and the result was a season's worth of easy transition baskets in one night.
In the nightcap, the Minster Wildcats struggled early on but broke open a tight game in the third quarter en route to a 50-30 victory over the St. Henry Redskins.
Tuesday's results set up a pair of intriguing matchups in Saturday's sectional finals, as both games will be rematches of mid-season barnburners.
Fort Recovery, now 16-5 on the year, will play 19-1 New Knoxville in a 6:15 p.m. start. The Indians were the only team to beat the Rangers this year, as they hung a 47-36 loss on the MAC champs back in January. Minster, now 8-13, will no doubt be primed for a rematch with 15-5 Marion Local in a game that will begin approximately 30 minutes after the conclusion of the opener. The Wildcats dropped a 44-42 decision to the Flyers just two weeks ago.
Saturday's action will be a split session, with separate admission required for both games.

Fort Recovery 63, Spencerville 30
It's not easy to blow a team out when you commit 20 turnovers, but the Indians did just that by forcing the Bearcats into a mind-boggling 34 miscues.
The start of the game was a perfect harbinger of things to come, as the Indians scored eight straight points off Bearcat turnovers in the first two minutes of action to take an 8-2 lead.
Fort Recovery's pressure was so intense that Spencerville struggled just to set up its half-court offense. The Bearcats didn't make their first field goal until four and a half minutes had gone by, thanks mostly to the 10 turnovers they committed in that span.
Indian Vicki Roessner was the prime beneficiary of her team's pressure, as the junior tallied 12 points in the first half alone, with eight of them coming on layups.
Fort Recovery built its lead steadily until midway through the third quarter when Spencerville put together a mini run to draw to within 14 points. Indian standout Tiffany Gaerke also went to the bench with her third foul at this point, but her teammates bailed her out in a hurry.
Sara Fortkamp drilled a three-pointer and followed with a layup, and Joanna Snyder hit a bomb of her own to extend the Indians' lead to 48-24 just one minute after the Bearcats appeared to have some life.
Things never got better for the Bearcats, as they were outscored 15-6 the rest of the way.
"The pace of the game was what Fort Recovery wanted, because we didn't want to get out and run with them," said Spencerville coach Jim Baumgartner. "When we got in our half-court game we were OK but they were beating us up and down the court and their transition points added up real quick."
Fort Recovery coach Jeff Roessner will now go to work on a gameplan to beat a very good New Knoxville squad for the second time this year.
"New Knoxville is a great team, and they're going to be out for revenge," said Roessner. "They're almost playing like a team of destiny the way they're playing right now. The last time we played the game was tied at halftime and we got some buckets late from Holly Stein to ice the game. I'm sure they'll have something for Holly in this game, but we've got some other places we can get some scoring from."

Minster 50, St. Henry 30
For two and a half quarters this game was shaping up like a typical MAC dogfight, but the Wildcats played the role of dog warden for the rest of the game.
Up 27-26 midway through the third, Minster caught fire on the offensive end and put the clamps on defensively to run away with this one.
Jenna Blackburn drilled a three ball to start a rally that turned into a 9-1 run that gave the Wildcats a 38-27 advantage after three quarters of play.
Minster's hot streak didn't end there, though, as it piled on 10 unanswered points early in the fourth frame to put the game away. St. Henry was held scoreless for nine straight minutes in the second half, as Minster's pressure defense forced several turnovers.
The first half, on the other hand, was back and forth all the way with St. Henry holding the upper hand most of the time.
The Redskins held a 15-10 lead early in the second quarter before a pair of Wildcat scoring streaks turned the momentum.
Minster reeled off seven straight points to take a 17-15 advantage, but St. Henry quickly turned the tables with their own seven-point run to push the lead back to five at 22-17.
Minster rallied once again, though, as Lisa Muhlenkamp hit a pair of buckets and Laura Gruber followed with a jumper in the lane to give the Wildcats a one-point lead going into halftime.
"Our girls just didn't handle the pressure," said St. Henry coach Charlie Maier. "We told them at halftime to look out for traps coming from behind, and if we did get trapped we should attack the basket and make them pay for it. Then we started standing around and we just didn't handle the pressure. Credit goes to Minster because they went out and did it and we didn't respond."
Minster coach Nann Stechschulte pointed to a new defensive attitude as the reason for her squad's second-half success.
"I think defensively we came out with more intensity," said Stechschulte. "I'm going to chalk up the first half to first-game jitters, because that wasn't pretty. We didn't take care of the ball and we just made some crazy decisions in the first half. In the second half we became more patient on offense and we just settled in."
Stechshulte will now focus on Marion Local, a team with which her team has plenty of tournament history.
"If you look back and look we've seen each other in tournament probably eight of the last 10 years," said Stechschulte. "Three years ago we met right here in the sectional finals and the situation was turned around (when Marion upset top-seeded Minster). Who knows, maybe history will repeat itself."