By Betty Lawrence
blawrence@dailystandard.com
ROCKFORD -- A contingent of 12-plus parents and students attended Thursday's Parkway Local Schools Board of Education meeting to show support for bringing a first-ever wrestling program to the district.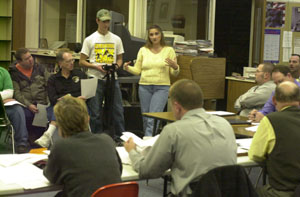 The wrestling issue was brought before the board several years ago and wrestling aficionados say they were told at that time that wrestling would be considered as a school sport once the district's new Pre-K/12 school was ready.
The new building will be operational at the start of the 2006-2007 school year.
"The building is up and now we hope to get it (wrestling) implemented this year," spokesperson Kim Green told the board, urging them to consider bringing the popular sport to Rockford's students.
Green and her husband, Carl, have a son who participates in freshman wrestling with a Van Wert team. "Wrestling is a great one-on-one sport that builds discipline," Green said, "and it is co-ed and a good way to get kids started thinking about competing in sports."
In an interview prior to Thursday's meeting, Carl Green described wrestling as an excellent sport for building self-esteem and discipline and said it picks up prospective athletes who otherwise would "fall through the cracks" of traditional sports.
"It would be great if he (Carl III) could represent his own hometown," Carl Green said.
"There has never been a wrestling program at Rockford and I think it's about time. There is more than enough interest among the students for a team. It wouldn't be expensive to offer and I would like to see it at the junior high and high school levels."
Another concerned parent last night informed the board that scholarship opportunities for wrestlers abound.
Equipment costs and storage of the equipment were high on the list of the board's concerns, along with adherent issues when first transferring into the new school building.
Green distributed information to the board on estimated startup costs for the sports that totaled $8,538 for headgear, uniforms, scales, used mats and miscellaneous items.
When the smoke had cleared, board members and administration indicated they would like to investigate the issue further before making any decisions. They need more input, they told the crowd, before deciding when, or if, wrestling becomes a Parkway sport.
High School Principal Greg Puthoff said he would check into Coldwater's wrestling program and take a poll of students in grades 6-11 to see how many are interested in wrestling and then bring the results to next month's board meeting.
"If we do this, I think it would be good to first start at the junior varsity level (grades 7-8)," Puthoff said this morning.
Athletic Director Lucus Minnich also told the board he would bring back more information at the March board meeting.
"We will look into it, but I think first of all we have to investigate any implications," Supt. Doug Karst said.
"I want to see more information brought before us before deciding if wrestling should start right away," board president Dana Smith said.
When questioned after the meeting, members Betty DuBry and Kim Brandts said they were in favor of seeing wrestling come to Rockford and would support it, while board member Terry Smith said wrestling was "a good idea if it's feasible."
Not in agreement was board member Bob Ransbottom.
During the board meeting he indicated he was not sure moving into the building right now would be the right time to start the new program. He later said, "We have enough on our plate. There's not even any place to store the mats. No, I'm not in favor of it."
In Mercer County, the Coldwater and Celina school districts offer wrestling. In neighboring Auglaize County, St. Marys students also have the opportunity to wrestle.
Phone: (419)586-2371, Fax: (419)586-6271
All content copyright 2006
The Standard Printing Company
P.O. Box 140, Celina, OH 45822