By William Kincaid
wkincaid@dailystandard.com
ROCKFORD -- A single-engine Cessna airplane crashed into a mound of dirt, nearly striking a house where four family members were spending the afternoon Friday.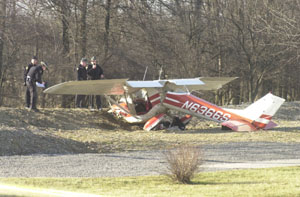 Tim Baltzell said he was in the living room of his father James' house at 4247 U.S. Route 33 with three other family members, when he saw a shadow emerge upon the lawn before hearing a crash.
"It sounded like two cars hit," he told The Daily Standard during a phone interview Friday.
Baltzell said he went outside and approached the wreckage of an airplane -- which came within 25 yards from the Baltzell home -- and then dialed 911.
He noticed two men, who appeared to be in their 30s, were bleeding severely. The pilot remained stationed in the airplane with excessive bleeding to his face. "The pilot hit the windshield," Baltzell said
The passenger got out of the airplane and began walking around. Baltzell said the passenger had no recollection of the wreck and repeatedly asked him what happened.
After Rockford Emergency Medical Service workers and the Rockford Fire Department arrived near the crash, Mercer County Sheriffs and Ohio State Highway Troopers secured the scene.
According to a press release from the Wapakoneta post of the state patrol, the crash occurred at 2:20 p.m. after the plane struck electrical wires and a tree near the Baltzell property, east of Rockford. The pilot, Joel D. Avore, 35, of Greenville and the passenger, James A. Canders, 32, of Wyoming, Mich., were transported from the scene by medical helicopter to the Medical College of Ohio in Toledo for treatment of serious injuries received in the crash, the release says.
Both were in critical condition Friday evening, a hospital official said.
Troopers and the Federal Aviation Administration are handling the investigation.
According to Baltzell, the plane may have been trying to land in his father's field, which lies near a small creek. The state patrol did not know the plane's point of origin or destination.
Phone: (419)586-2371, Fax: (419)586-6271
All content copyright 2006
The Standard Printing Company
P.O. Box 140, Celina, OH 45822