By Ryan Hines
rhines@dailystandard.com
NEW BREMEN -- For the first time in school history, New Bremen can call itself the outright Midwest Athletic Conference champions.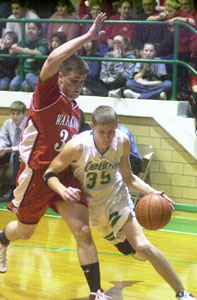 After earning a share of the MAC crown on two different occasions, the Cardinals won the league all alone after turning a two-point halftime deficit into a 59-41 victory with a dominating third quarter at Cardinal Gymnasium on Friday night.
"To win this league after going 0-9 five years ago is a testament to how hard these kids worked and the time that they have put in the last five years and it's really remarkable," said New Bremen head coach Mike Ernst.
"If feels great, better than I ever could have imagined," said New Bremen junior Scott Steineman.
The lop-sided outcome overshadowed a tightly contested first half that saw Minster take a 23-21 lead at halftime. "We knew that we hadn't played our best in the first half and we knew that we had to play better in the second half and we did," said Steineman.
New Bremen turned up its defensive pressure in the third frame and outscored Minster 17-4 to take a commanding 11-point lead heading into the fourth quarter.
The Cardinals used a tenacious man-to-man defense in the third quarter to force six Wildcat turnovers (Minster had two turnovers in the first half) and New Bremen turned the Minster miscues into transition points.
"We pick our spots with our pressure and we didn't want to do it too early and we just tried to ride the first half out because Scott Brackman (two fouls in the first four minutes of the game) was in foul trouble and that takes away a lot of what we can do with our pressure," said Ernst.
Brian Schwartz and Scott Steineman led the charge in the third quarter with eight and seven points, respectively, while Scott Brackman forced many of the Minster turnovers and added four assists during the third quarter.
"They just turned the heat up in the third quarter and we didn't respond," said Minster head coach Mike Lee. "That's the frustrating part of it. They had two or three open looks in the first two minutes of the quarter and they didn't get one good look the entire first half. A good mark of a good basketball team like they have is to take advantage of that.
"The first four or five minutes of the third quarter was a nightmare for us," added Lee. "Ultimately, you have to give credit where credit is due, and like I told Mike (Ernst) after the game, hats off to you because your kids deserve it."
Minster shot just 2-of-10 from the floor in the third quarter while New Bremen hit 7-of-11 from the field, including three-of-six from beyond the three-point arc.
"Luckily we were able to stay close enough and then we turned the pressure up in the second half and we were finally able to get some easy baskets and get the pace of the game going where we wanted it," said Ernst. "Then we were able to get some shooters open and we were able to hit some shots. When we got that separation, I felt pretty good."
"It was really frustrating to be sitting on the bench as much as I did in the first quarter and when I was able to get back out there, I wanted to be aggressive and give our team a lift," said Brackman, who hit eight of his nine field-goal attempts on the night by driving to the basket. "We've had strong third quarters all season long and that's been one of our strong points of this team. We knew that we had to step it up after being down in the first half and we did it on the defensive end. We trapped them a little more and we got some steals and just made them uncomfortable bringing the ball up the floor.
"Our offense feeds a lot off of our defense and that's exactly what happened for us in the third quarter," continued Brackman. "Our defense gave us some open looks and we started to knock them down."
The 11-point bulge for New Bremen heading into the fourth quarter never got below double digits as the Cardinals cleared the bench and began to celebrate on the bench during the final two minutes of the game.
Brackman and Schwartz each scored a game-high 17 points for New Bremen while Steineman added 14 markers.
"Brackman controls their offense and he has excellent quickness and he sets up a lot of their kids offensively too," lauded Lee.
Zac Boeke was the lone player in double figures with 10 points for Minster.
New Bremen, the top seed at the Coldwater sectional beginning on Tuesday, will wait for the Marion Local/Fort Recovery winner in the sectional championship on Friday. Minster will open postseason action on Tuesday night at Coldwater against Waynesfield-Goshen.
Phone: (419)586-2371, Fax: (419)586-6271
All content copyright 2006
The Standard Printing Company
P.O. Box 140, Celina, OH 45822