By Gary R. Rasberry
grasberry@dailystandard.com
A cold spell lasting 41Ú2 minutes in the fourth quarter moved Celina from within striking distance of Wapakoneta to trying to dig out of a big hole.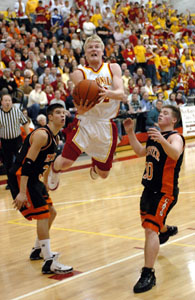 The Redskins wrapped up a 15-win season with a 60-46 win over the Bulldogs at The Fieldhouse in the regular season finale for both teams.
Wapak ends the year 15-5 overall and 6-3 in the Western Buckeye League while Celina goes into next week's sectional 7-13 and 2-7 in league play.
Before that cold spell, and afterwards, the game was fairly even. Wapak and Celina matched up well and tried to keep each other's top weapons under control.
For Celina, that was stopping point guard Josh Brown. Brown, a double-digit scorer for the Redskins, was held to just nine points but B.J. Reed, the Redskins' 6-6 center, was 6-of-8 from the field on the night and finished with 14 points and 12 rebounds. The other force in the paint, Brandon Steinke, added 10 points. The rest of the Redskins were also balanced. Of the nine that played, eight scored at least a point. Randy Schmerge had eight points with Justin Shark adding seven.
Things went south for Celina after Eric Loughridge hit a shot with 5:19 to go in the first half to cut the Bulldogs' deficit to six points at 20-14.
Shark broke a one-minute scoreless span with a runner with 4:18 showing on the clock and then Celina turned the ball over, allowing Steinke to score to make it a 10-point game. After another Bulldogs turnover, Shark scored again to push the Wapak lead to 26-14. After a timeout and another Celina turnover, Reed powered his way inside for for back-to-back buckets to make it 30-14, completing a 10-0 Redskins run.
Celina finally broke the cold spell with a Derek Gagle jumper with 32 seconds left, but Wapak wrapped up the strong quarter when David Schnell hit a three-pointer that bounced around for several seconds before dropping at the buzzer to allow Wapak to go into the break up 33-16.
"We went through that four-minute segment and we had six turnovers," said Celina coach Chris Bihn. "During that time, that's when (Wapak) scored. That's what killed us. It was just us not taking care of the ball."
"We were fortunate that we got hot," said first-year Redskins coach Scott Minnig. "(Celina) got a little cold at the right time for us. Fortunately, we took advantage of it."
In the second half, Celina outscored Wapak 30-27 as the Bulldogs got on track. By the fourth quarter, Celina had gotten the deficit to under 10 points, only to have Wapak snag a few points late to get the 14-point win.
"After that, it was pretty even," said Minnig. "Basketball is a game of runs. We capitalized on it for the most part."
"I thought we played pretty well defensively," said Bihn. "Jay (assistant coach Jay Imwalle) had a great gameplan. Brown had five until the free throws down the stretch. Reed had a pretty nice game. He's a nice player. Other than those two, we did all right defensively.
"Take that stretch away (in the second quarter) and it was even."
Luthman wrapped up his career at The Fieldhouse with a 17-point night. Luthman shot just 4-of-10 from the field, but was a perfect 8-of-8 night from the foul line. Loughridge was the only other Bulldog in double figures with 10.
Celina opens its tournament schedule on Wednesday at the Division I sectional at Liberty-Benton. The Bulldogs face second-seed Bowling Green in the 6:15 p.m. game. Wapak also opens sectional play on Wednesday, playing Bath at 6:15 at the Division II sectional at Lima Senior.
Phone: (419)586-2371, Fax: (419)586-6271
All content copyright 2006
The Standard Printing Company
P.O. Box 140, Celina, OH 45822