By Gary R. Rasberry
grasberry@dailystandard.com
Although hopes were there for a larger contingent this season, the Coldwater wrestling team will be well-represented at the 69th State Wrestling Tournament starting Thursday at the Schottenstein Center.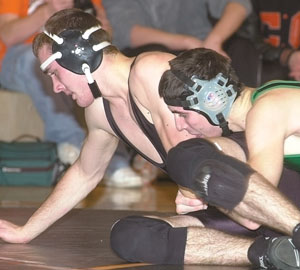 The Cavaliers matched the schools career-high of three wrestlers, set last season, advancing out of district action this past weekend at Fairmont.
Seniors Andy Schmidt and Kenny Platfoot and sophomore Tyler Kunk have a combined record of 113-21 this season for Coldwater and all three make their state tourney debut.
"It's something I've dreamed about my junior high and freshman years," said Schmidt. "I wanted to make it more than one year, but it feels great to make it my senior year."
"It feels pretty good. We've had good leaders every year. The coaches have helped a lot," said Kunk, who has replaced his blonde tresses for a jet black look, a change from last year's blonde dye job. "Our (program) has really turned around. I feels good to actually make it to state at such a young age." While all head to Columbus to compete for the first time, Kunk has some experience at the state level, making the junior high state tournament two years ago.
"It's fun to go to. There's a ton of people there," said Kunk, whose father Ted is one of the junior high coaches at Coldwater. "But making it to state is everyone's goal."
Kunk has a big challenge in his first match at state, facing Genoa area's Nick Purdue. Purdue, who finished third at 160 pounds last season at state, is rated as the favorite to win at 171 this season by the Brakeman Report, a high school wrestling forecast guide.
"You just start wrestling and hope you do your best," said Kunk.
Schmidt is coming off an injury that kept him from trying for a district championship last week but things look to be better this week as Schmidt is ready to go. Schmidt, ranked among the top 30 contenders for state at 152 in the Brakeman, faces sophomore Tim Randolph of Belpre, who enters 42-4 and is ranked 15th in the Brakeman.
"I should have a pretty good chance to win my first match," said Schmidt.
For Schmidt, the weekend could allow him to make history. Schmidt comes in with 128 career wins, one back of Kyle Oswalt on the all-time list at Coldwater.
"It's definitely something," said Schmidt about the milestone. "No one hardly accomplishes that many wins (only Oswalt, Schmidt, Marty Hemmelgarn and Aaron Alig have 100-plus wins at Coldwater). It felt great just to get over 100 this year."
For Platfoot, the trip to state is a great accomplishment after coming off surgery that hampered him last season.
"It's been my ultimate goal to make state," said Platfoot.
Platfoot has been used to competing at the top level. A key member of the Coldwater cross country team, Platfoot has faced off in big competition all his career.
"With the football team's success, just watching them gets you ready to want to go to state in anything you want to do," said Platfoot, whose grandfather Fran Guilbault coached St. Henry to three state basketball titles. "Every sport you're in, you want to go to state."
Plaftfoot (34-9) faces off in the first round against Ricky Headrick of Tiffin Calvert (31-9).
Cisco hopes for higher finish than brother
Last season, Josh Cisco got a chance to see older brother Caleb finish fifth in the state at 103 pounds.
Now, he gets a chance to hit the mats for himself after placing second at the Division II district at Ontario.
"It's just great," said Cisco via a telephone interview. "It makes you feel a whole lot better when you can accomplish something that a lot of people are hoping to do some day."
Having a brother who's roughly the same size has helped Josh Cisco in workouts. Not only does Josh work out with the team, but also spars with Caleb in the practice room in the basement of the family house.
"I've worked so much harder this year," said Cisco, who made it to districts last season, but missed out on the state trip. "We (Josh and Caleb) get up at 5:30 in the morning and wrestle. I go to practice and wrestle and go home and I go to camps."
The Roughrider 112-pound junior enters the tournament 34-4 a contender to place in the weight class, ranked 19th in the Brakeman Report.
Cisco will face another Brakeman contender in Cambridge sophomore Paul Rose, who heads to Columbus 40-8 after placing third at the Watkins Memorial district.
Cisco is ready to go and isn't suffering from butterflies heading down to Columbus.
"I really don't get nervous until about 10 minutes before the match," said Cisco. "There's no reason to be nervous when you're down there. You're there to just have fun and do your best."
Tiger duo ready for state run
With the long history of wrestling success, Versailles' state tandem of Russ Beisner and Derek Oliver are looking to do well. The Tigers have had at least one wrestler at the state meet every year since 1986 and have missed out on sending wrestlers to just two state meets since 1974.
Beisner, the senior 189-pounder, is looking to buck the trend of the lighter weights earning state placements. The last wrestler over 152 pounds to place at state was heavyweight Ben Gilmore, who placed sixth in 1995.
"I felt pretty good," said Beisner about making it to Columbus. "A lot of people (had) high expectations. My coaches were expecting me to make it to state. Friends and family were, especially. That gave me a little extra drive."
Beisner, 42-9 going into Thursday, has a decent draw in Kirtland junior Gary Steigerwald, who comes in at 34-7.
"Mr. Roll (head coach Bill Roll) has his way to keep our eye on what we're doing," said Beisner, who won the Celina Lions Invitational 189-pound title this season. "He makes sure we stay focused."
Sophomore Derek Oliver enters Columbus as the runner-up at 125 pounds from Fairmont. Oliver (34-11) faces Ashland Crestview senior Dustin Edgell (41-8) in the first round.
"It's a great experience to go," said Oliver, who placed third at the Celina Lions. "It felt great (to make it to state). All the good wrestlers go there. To be able to watch them (and possibly face them) will be fun."