By Laura Walker
lwalker@dailystandard.com
Of course, it was chocolate.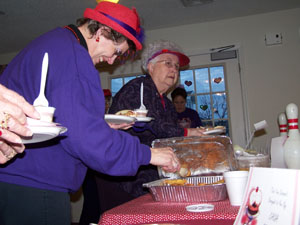 Chocolate led the way to three winning desserts Tuesday night during the Taste of Mercer County contest held at Miller House, Celina.
The People's Choice Award went to a brownie parfait -- brownie topped with whipped cream, chocolate and a cherry -- made by Romer's Catering of Celina.
Judges picked two First Place Award winners -- a chocolate chip cookie bar by Casey Jones of Celina and a peanut butter pie with chocolate crust by Plaza Lanes Bowling of Celina.
Loaded with chocolate chips, the half-inch thick cookie bar was topped with a delectably sweet creamy drizzle, making it no ordinary cookie bar. The pie, with an oreo crumb style chocolate crust, was a layer of chocolate and peanut butter pudding, topped with whipped cream and a crisscross drizzle of melted chocolate and warmed peanut butter. The winning desserts beat out a coconut cream pie, sweet potato pie, cake, cheesecake and others that were up for grabs at the free public event.
The 13 treats, made by various restaurants and other businesses, satisfied tasters from a 6-year-old cookie lover to the elite taste buds of five judges.
Chinatown Express offered deep fried and baked desserts with two sauces. Rounding out the international flair was Casa Rodriguez with a fried pastry sprinkled with cinnamon sugar or dipped in honey. Attempting to bring in springtime was Chief grocery with a butterfly decorated cake.
"Everybody kept the recipes very secret, they didn't even tell us what they were bringing ahead of time," said Lori Heyne, Celina Manor management assistant.
The idea for the contest came from a resident of the retirement home.
"One of our residents commented that they go weekly to a restaurant just for the dessert," Heyne said.
She and Administrator Bryan Davenport made the idea a reality by inviting every bakery, restaurant and catering service in Mercer County to submit their best homemade dessert.
Everyone was able to cast ballots for their favorite dessert. Official judges were Ruth Rumple of Celina City Schools; Jean Giesige, a cooking columnist for The Daily Standard; Sharon LaRue, Celina mayor; and Pam Buschur and Deb Green, of the Mercer County Chamber of Commerce.
Phone: (419)586-2371, Fax: (419)586-6271
All content copyright 2006
The Standard Printing Company
P.O. Box 140, Celina, OH 45822