By Ryan Hines
rhines@dailystandard.com
COLDWATER -- A double-overtime thriller highlighted Division IV sectional semifinal action at Coldwater on Tuesday night.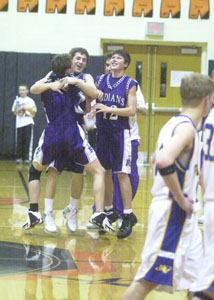 Marion Local blew a 13-point fourth-quarter lead and Fort Recovery triumphed 48-47 in double overtime while Minster outlasted Waynesfield-Goshen 70-61 as the Indians and Wildcats advance to the sectional finals on Friday night.
Fort Recovery now faces top-seeded New Bremen on Friday at 6:15 p.m. while Minster will meet second-seeded New Knoxville in the nightcap with sectional titles and district berths on the line.
The Indians, who lost to New Bremen by 37 points in the regular season, and the Wildcats, who lost to New Knoxville by 17 points, will both be looking for upsets on Friday night at The Palace.
Fort Recovery 48, Marion Local 47 (2OT)
Marion Local scored the first 15 points of the first quarter and held a 13-point lead entering the fourth quarter before Fort Recovery began its remarkable comeback.
The Indians started the final stanza with a 12-0 run over the first three minutes of the fourth quarter and pulled to within one point at 35-34 with 4:17 left to play. Travis VanSkyock scored eight points to spark the run.
Fort Recovery again trailed by four points late in regulation before Luke Bihn and Toby Metz-ger each hit a deuce to knot the score at 38-38 with a minute left to play.
Marion Local played for the final shot but Ryan Stucke's baseline jumper was off the mark forcing the first overtime.
The Flyers had another chance to win the game at the end of the first overtime, but Curtis Moeller was called for a player control foul with 2.6 seconds left on an out-of-control drive to the hoop.
Fort Recovery then missed a chance to win the game in the first overtime when Clint Tobe's lone-distance trey was off the mark, forcing a second overtime period.
A crazy second overtime period ended with each team having a chance to win in the waning moments of action.
Fort Recovery held a 48-46 lead with 2.1 seconds left on the clock with Ryan Staugler on the free-throw line with a chance to seal the win. However, Staugler missed both free throws and inexplicably decided to try for an offensive rebound when he was called for a loose-ball foul putting Marion Local's Corey Moeller on the charity stripe with two free tosses and a chance to force the game into a third overtime with just 1.2 seconds left.
Moeller made the first free throw, but the second freebie hit off the back rim and time ran out before anyone could corral the rebound lifting Fort Recovery to the victory.
It was the first win over a Midwest Athletic Conference opponent for Fort Recovery all season after losing all nine league games during the regular season. The Flyers had beaten the Indians, 53-45 earlier in the regular season.
"I think that if you ask any of our kids or any of our coaches, if we could trade one win during the regular season for this tournament win, I guarantee that it would be a unanimous no for an answer," said Fort Recovery head coach Brian Patch, who watched his team shoot just 30 percent from the floor in the game. "The two teams played their butts off and neither teams wanted to lose but we did just enough to come away with the win. I told the kids during the week that the regular season doesn't matter anymore because it's a new season right now."
"The game came down to executing at the end and we had several opportunities to win this game, but we just didn't execute at the end of the fourth quarter and the two overtimes," said Marion Local head coach Keith Westrick. "When you have as big a lead as we had early in the game (15 points), you hate to see it dissipate. We got stagnant and didn't play with the confidence that we played with early."
VanSkyock led all scorers for Fort Recovery with 16 points while Chris Stucke led Marion Local with 14 points, including 11 of those points in the first quarter.

Minster 70, Waynesfield-Goshen 61
The Wildcats trailed by as many as eight points in the first quarter but Minster's combination of Logan Sommer inside and Zac Boeke outside was too much for Waynesfield in the end.
Logan Sommer scored a career-high 22 points and added 13 rebounds while Zac Boeke added a team-high 25 points with five three-point field goals to pace the Wildcats to the win.
"We aren't an inside team and we haven't been all season long, but I felt that during preparation for this game that we needed to make a statement inside and that was good to see and Logan was the recipient of that tonight," said Minster head coach Mike Lee. "We missed some open looks early, but when they would drop down in the middle, we began to hit some threes in the second quarter and from there on."
Sommer and Boeke were enough to combat the game-high of 28 points from Waynesfield's Joe Horn.
Minster erased the eight-point deficit in the first quarter with a 15-0 run in the second quarter which put the Wildcats on top to stay at 30-24 at halftime.
The Wildcats pushed their lead to as many as 15 points in the second half and the Tigers never got any closer than seven points in the fourth quarter.
Andy Beckman also cracked double digits for Minster with 11 points while Matt Smith added 15 markers for Waynesfield.
Minster was playing without the services of Max Phlipot, a double-digit scorer during the regular season, who sat out with his right arm in a sling.
"He's had elbow problems going back to a game around Christmas time and unfortunately this week it ballooned on him and swelled up on him," said Lee. "We're still not sure about it, but we're optimistic and hoping that we'll have him for Friday, but we don't know that for sure. It's definitely not playable right now."
Phone: (419)586-2371, Fax: (419)586-6271
All content copyright 2006
The Standard Printing Company
P.O. Box 140, Celina, OH 45822