By Margie Wuebker
mwuebker@dailystandard.com
MARIA STEIN -- A 10-acre wheat field on the grounds of the Spiritual Center will become the temporary home of nearly for 3,000 American flags as part of a planned West Ohio Healing Field.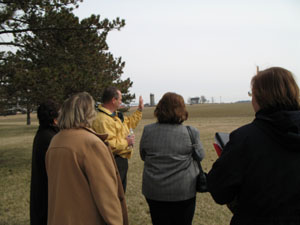 A Healing Field is a flag display set up in recognition of a particular event or group of people. Locally, flags will be erected in honor of soldiers and military veterans as well as law enforcement officers, firefighters, emergency medical service personnel and first responders.
The event, which begins the morning of Sept. 9 and continues until the evening of Sept. 12, also coincides with the first anniversary of the September 11 tragedy. Terrorists claimed the lives of more than 3,000 people when planes struck the World Trade Center in New York City and The Pentagon near Washington, D.C. A third plane crashed in a Pennsylvania field.
Jennifer Miller of Versailles, project chairman, views the event as a patriotic way to say thank you to "everyday heroes" as well as active duty military personnel and veterans who have or who continue to protect freedom.
The idea of hosting a national event in Mercer County took root during a fall meeting of a military support group at the Spiritual Center. "One of our speakers mentioned the Healing Field and things began to snowball," said publicity chairman Bets Eischen. "We talked with a woman involved in the Findlay display and the wheels started rolling."
Paul Swenson, owner of Colonial Flag Co. in Sandy, Utah, planned the first observance as a means to help residents of his community deal with the gravity of the national tragedy and begin the healing process.
The emphasis has changed over the years to one of patriotism and honoring community heroes who serve on a paid or volunteer basis in the interest of others.
Miller, whose husband is serving a 11Ú2 -year military deployment overseas, admits becoming emotional while viewing the promotional video. She expects others to be moved in similar fashion.
Initial plans call for the construction of two 60-foot towers reminiscent of the ones that fell in New York. They will form the entrance to the Healing Field along with a mammoth American flag and a corridor of smaller flags.
Planners envision residents of a six-county area will purchase 3,000 flags in honor of loved ones and public servants. These will be mounted on 8-foot poles along with commemorative tags. Global positioning equipment will ensure long, straight rows.
A special flag display is planned in memory of Ken Jutte and John Garman, two New Bremen-German Township firefighters, killed in the line of duty.
Nick Schulze, field committee chairman, estimates at least 120 volunteers will be needed to set up the flags. The process will take eight to nine hours.
"The wheat field out there will become a field of red, white and blue," Miller said. "It will be an incredible sight."
Special events are being planned to coincide with the colorful display. Nationally known speakers have been invited and music will waft over the area. Visitors will have an opportunity to visit a museum containing September 11 memorabilia. Logistics involve planning for the expected influx of personal vehicles, school buses and charter buses from a 75-square-mile area.
The two-mile section of St. Johns Road, from state Route 274 to state Route 119, will be lined with American flags at 10-foot intervals.
Proceeds from the sale of flags at the event will benefit the military support group as well as area firefighters, EMS squad and law enforcement officers.
Phone: (419)586-2371, Fax: (419)586-6271
All content copyright 2006
The Standard Printing Company
P.O. Box 140, Celina, OH 45822