By Gary R. Rasberry
grasberry@dailystandard.com
FINDLAY -- It was a struggle for Celina right from the start as the Bulldogs were eliminated from postseason play by second-seeded Bowling Green, 75-44, in Division I sectional semifinal action at Liberty-Benton on Wednesday night.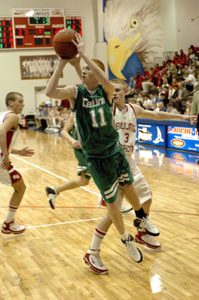 Bowling Green (15-6) faces a familiar foe in Northern Lakes League rival Anthony Wayne in the second game on Friday. The Generals eliminated Lima Senior, 58-49, in the second game on Wednesday beating the Spartans for the first time in school history.
Celina, which ends the season at 7-14, looked to be holding its own against the Bobcats getting as close as three points in the second quarter. Celina used a solid shooting game to hang tight, hitting 9-of-20 in the first half with an impressive 4-of-6 from behind the three-point line.
"They shot the three better than we thought they were capable," said Bobcats coach Von Griffin. "They hit two threes back-to-back against our zone. We had to get out of the zone in a hurry."
After the solid-shooting early portion of the first half, Celina's shooting touch turned cold. Brian Dorsten started the second half with a jumper 51 seconds into the third quarter, but the Bobcats went on an 8-0 run over the next two minutes. Brandon Radabaugh wrapped a bucket and pair of free throws around a couple of Jordan Fortney buckets during the run.
After Justin Chapel snapped the run with a pair of free throws, Bowling Green went on a 6-0 spurt. Fortney hit another bucket and Ryan Hoehner scored a basket after sinking a pair of free throws brought on by a technical foul on Eric Loughridge.
By the end of the quarter, Bowling Green was up 56-32 and in complete control of the game.
"We came out in the first two minutes and shot jump shots instead of pounding it inside or shooting the open three," said Celina coach Chris Bihn, whose team shot just 33 percent (7-of-21) in the second half. "Jump shots have never been our game. That explains it.
"They bothered our shots all night," continued Bihn. "We never felt comfortable shooting anything. They're much more athletic than we were."
Despite the 37-25 lead at haftime, the Bowling Green mentor wanted to make a statement in the third quarter and his Bobcats responded.
"We had to make sure we came out to play early," said Griffin of his team's plan for the second half.
While Celina had trouble shooting the ball, Bowling Green played like a team that was worthy of the second seed at the Liberty-Benton sectional.
At the start of the game, Celina focused on the 6-5 Hoehner and kept him from the ball. That left Blaise Markey open for three straight three-pointers in the the opening moments of the game.
With Celina's defense now forced to spread out to contain Markey, Hoehner started controlling the inside, hitting 6-of-14 from the floor and a perfect 8-of-8 from the charity stripe for a game-high 21 points with 12 rebounds.
When Hoehner and Markey, who finished with 14 points thanks to 4-of-6 shooting from beyond the three-point arc, were covered, Fortney and Radabaugh chipped in. Fortney scored all 13 of his points in the middle two quarters while Radabaugh used an 8-for-10 night from the foul line to score 12 points.
"I have five guys that average better than 7.5 (ppg.)," said Griffin. "That's a big part of our team."
"They have a well-balanced team," said Bihn. "They have other kids over there that can shoot the ball. They can score."
Scott Luthman wrapped up a solid career at Celina with a 14-point night while Dorsten added 12 points. Chapel, the other senior for the Bulldogs, scored two points.
"Celina is a very well-coached team," said Griffin. "They're a young team with just two seniors. They shall be back. They do a lot of nice things."
Phone: (419)586-2371, Fax: (419)586-6271
All content copyright 2006
The Standard Printing Company
P.O. Box 140, Celina, OH 45822