By Gary R. Rasberry
grasberry@dailystandard.com
COLUMBUS -- Things looked good for the Coldwater wrestling trio at the 69th State Wrestling Tournament at the Schottenstein Center on the campus of The Ohio State University.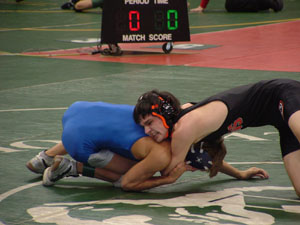 The Cavalier trio of Kenny Platfoot, Andy Schmidt and Tyler Kunk went 3-1 on Thursday in the Division III tournament, all moving on to the second day of competition starting this morning.
The day started out with a convincing win as the 125-pound Platfoot beat Ricky Headrick of Tiffin Calvert 11-0 to earn the rest of Thursday off.
Platfoot had to battle for the first half of the first period before putting Headrick on his back for two points and picked up three more on backpoints to lead 5-0 after one.
In the second, Platfoot scored a takedown to make it 7-0 before getting four points in the final period to get the win. "Great way to start off the day," said Platfoot. "I like the way it
started out. I knew I needed to score first. I got that and put him on
his back. I felt pretty good after that.
Andy Schmidt became the next Cavalier to get an opening win, beating
Belpre's Tim Randolph 18-10 to advance in the 152 bracket. Just like
Platfoot at 125, Schmidt got out quick 9-0, only to have Randolph
scored seven straight to make a two-point match. Schmidt rebounded to
make it 15-7 quickly to enjoy the rest of the day off,
"It's nice. You get a long break," said Schmidt. "You get to watch
everyone else and see what the other weight classes look like."
The win was big as it was Schmidt's 129th career win, tying him with
Kyle Oswalt, who placed fifthat 215 for Coldwater last year, on the
all-time list.
"It would be nice to break Ozzy's record," said Schmidt. "I think I
can get at least one more win."
THe Cavalier's day had just one loss as sophomore Tyler Kunk lost his
opening match to Genoa's Nick Purdue, one of the favorities to win the
state title. Kunk was pinned in 2:30 to drop to the consolations and
have to fight to stay alive.
Kunk faced off against Pat Barrett of Bedford Chanel. After a
scoreless first period, Kunk went top to start the second period.
After some wrangling, Kunk got Barrett's back to the mat, seconds
later, Kunk had his first state tournament win with a pin at the 2:42
mark of the match.
"Tough match that first match (against Purdue)," said Kunk. "I
wrestled that first guy to see what he was like and get used to
wrestling someone that good.
"All season, top has been my weak spot. I was went for takedowns and
never for top. Coaches told me to run the leg and stay behind the arm.
He came out, I caught him and I pinned him. Now I can get home and get
some rest."
In the team stadnings, the Cavaliers have nine team points, good for
a tie for 10th among the teams at state. Periennial Division III
powerhouse Sandusky St. Marys Central Catholic, winners of the last
four state titles, is currently in first with 19 points.
Action resumed at 10 a.m. this morning with the championship
quarterfinals. The consolation second round starts at 12:15 p.m. The
championship semifinals start at 6:15 p.m.
Phone: (419)586-2371, Fax: (419)586-6271
All content copyright 2006
The Standard Printing Company
P.O. Box 140, Celina, OH 45822