By Ryan Hines
rhines@dailystandard.com
COLDWATER -- A pair of Midwest Athletic Conference heavyweights will play for the Division IV district title at Coldwater on Saturday night after Fort Recovery and Marion Local each posted double-digit victories on Thursday night at The Palace.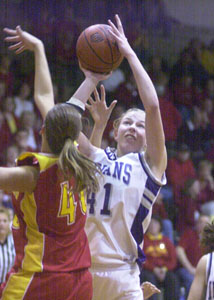 Fort Recovery dominated play in the post on the way to a 56-41 triumph over New Bremen while Marion Local took control from the start and cruised to a 52-39 victory over Upper Scioto Valley.
The Indians (17-5) and Flyers (17-5) will meet each other for the secomd time this season on Saturday night at 7 p.m. for a district crown and a berth in the D-IV regional at Vandalia-Butler High School's Student Activity Center. Marion Local won the first meeting, 47-42.
Flyers head coach Treva Fortkamp knows the task of taking on the Indians will be a tough one.
"I told the girls great game and we have one day to prepare for a nice team with a lot of good weapons," said Fortkamp. "It will be a typical tournament atmosphere, it will be physical and it will be every basketball fan's dream and every coach will be pulling their hair out." Indians head coach Jeff Roessner is hoping for a different outcome than the first meeting and feels he has the formula to pull off a victory over the Flyers.
"If you watch the games between the two of us, it's never our defense that lets us down, every time that we've played them we haven't scored for five, six or even seven for a stretch during the game at a time and one time even a 13-minute stretch where we didn't score," pointed out Roessner. "Defensively we're okay, the key will be if we have enough offensively to score enough. They've typically had Holly's (Stein) number and she has never played a good game against them so I think that we can pencil Tiff in for 10 points and we may need someone else to step up and score.
"I think because she (Stein) has struggled against them in the past, that she won't get near the attention that she has gotten from them in the past. If Holly has a big game we win, you can write that down. If she doesn't then we'll have a hard time finding points."

Fort Recovery 56, New Bremen 41
Tiffany Gaerke's presence in the post was too much for the Cardinals as the Indians' junior center scored a game-high 19 points and added a game-best 14 rebounds in the 15-point Fort Recovery victory.
Gaerke's play drew praise from both Roessner and New Bremen first-year head coach Dave McFeely.
"Gaerke had 14 rebounds and six on the offensive end and that was huge for us," said Roessner. "We try to spread out the defense and then get the ball to Tiff inside, and usually they have someone on the weak side to defend the lob but tonight they didn't do that as well. They put more pressure on our perimeter players and that gave Tiff some looks. We didn't think that they could shoot very well from the outside, so we packed it in and Tiff controlled the boards."
"The first time that we played them we held her to three but she took that as a challenge tonight and responded," said McFeely. "We didn't get our help to her on the weak side especially in the second half. When you front the post like we do, you need the weak side to come over and help on the lob or you'll get burned every time."
Holly Stein joined Gaerke in double figures with 14 points for Fort Recovery, which was in control from the outset.
The Indians built its lead and maintained a double-digit advantage for much of the game by controlling the boards.
Fort Recovery outrebounded New Bremen 36-21 overall with a 14-3 advantage on the offensive end.
"To get outrebounded like we did, especially on the offensive end like that, was tough. We gave them 14 offensive rebounds and chances for second-chance points and they just outplayed us tonight," said McFeely.
The Indians were up by as much 15 points points midway in the second quarter after putting together a 21-5 run dating back to the first frame. Stein had six points during the spurt that saw seven different Indians score as Roessner substituted on a regular basis to keep the girls fresh for their trademark fullcourt pressure defense.
New Bremen turned the ball over 25 times in the game, which included 15 in the first half of play that ended with the Indians on top 29-21.
Fort Recovery, which outscored New Bremen in every quarter, put the game out of reach by starting the second half with a 12-2 run, led by Sara Fortkamp as she scored all five of her points in that stretch to put the Indians on top 41-23 with 3:31 left in the third quarter.
Liz Schnelle led New Bremen (7-16) with 13 points.

Marion Local 52, USV 39
A suffocating defense and double-doubles from Maria Moeller and Jenna Barhorst helped Marion Local to a 13-point win over Upper Scioto Valley in the nightcap at The Palace.
The Flyers' overall better talent and size advantage limited the Rams to just 23.2 percent shooting from the field (13-of-56) in the game.
USV leading scorer Kayla Mullins, who came in averaging 23 points on the season, was held to just 11 points against Marion Local on a dismal 3-of-17 shooting night, which included just 1-of-6 from beyond the three-point arc.
"Our goal in every game each time we play is to play good defense, because like my assistant told me today, offense is for the fans but defense wins championships and I think that's what matters," said Fortkamp. "We played good solid defense tonight and contained Mullins and that was our key coming in. She's a nice player, but I thought that we did a good job on her with a lot of help."
A double-double is nothing new for Barhorst who had 10 points and 12 rebounds, but Moeller also did the double dip with a game-high 15 points and 11 rebounds. Moeller only shot 4-of-12 from the floor but had a 7-of-8 night at the charity stripe to come away as the games top scorer.
A 4-4 start was followed up with a 11-1 Marion Local run, helped out by USV's five first-quarter turnovers, to come away with 10-point lead after the first eight minutes of play.
USV got as close as eight points in the second quarter at 21-18, but the Flyers closed the first half with an 11-4 run to take a 15-point lead, 32-17, into halftime.
The bulge grew to 41-19 with a 9-2 Marion Local run to start the second half led by four points from Barhorst, and three from Moeller to go along with a deuce from Holly Fortkamp.
USV, which finishes 13-9, shaved nine points off of that lead at in the fourth quarter but it wasn't nearly enough as the Flyers stroll to the district title game.