By Ryan Hines
rhines@dailystandard.com
COLDWATER -- Midwest Athletic Conference rivals walked away with Division IV sectional titles on Friday night at The Palace in Coldwater.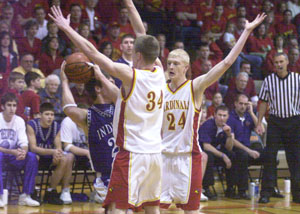 New Bremen struggled mightily, but still won its first sectional since 1988 with a 45-36 triumph over a feisty Fort Recovery squad while New Knoxville shot the lights out on the way to a 74-50 drubbing over Minster.
The Cardinals (18-3) and Rangers (17-5) both advance to the Wapakoneta District which will begin play on Tuesday night. New Bremen will tangle with Perry in the first game at 6:15 p.m. while New Knoxville will meet Ada in the nightcap at approximately 8:15 p.m.

New Bremen 45, Fort Recovery 36 The 18-year drought for a sectional title is finally over, but New Bremen players didn't get the happy feeling it was hoping for after cutting down the nets at The Palace.
"It feels great to win it finally, but it's hard to be too happy about it when we didn't play up to our potential," said New Bremen point guard and team leader Scott Brackman. "We knew that it was going to be a dog fight and we can focus on just playing better and trying to make a long tournament run."
"It's good to win the sectional, but it doesn't feel as good as I thought it would feel and that's because of the way that we played tonight," said New Bremen junior Scott Steineman. "It feels like a loss to me, I just wish that it felt better. We didn't practice well all week and we came out and played like it. We were tight and it showed."
Cardinals head coach Mike Ernst had a more optimistic look after winning the sectional crown.
"It feels good to me because it's been so long for New Bremen," said Ernst. "I know that I've wanted it since I've been here and the people around here wanted it for even longer than that. It wasn't easy, but we made just enough plays and Fort Recovery made it as difficult as it has been for us all year long."
Fort Recovery head coach Brian Patch was happy with the effort from his Indians.
"We had nothing to lose tonight," said Fort Recovery head coach Brian Patch. "We played hard and I think that they were a little rattled early on. They've been hearing and reading all week long about how they beat us by 37 the first time around. I don't think that they were overlooking us, but they came out tight and a little nervous and didn't shoot the ball very well."
New Bremen, the best shooting team in the area all season long, shot just 33 percent (13-of-4) from the floor including a dismal 6-of-26 from beyond the three-point arc.
The high-scoring Cardinals were forced to grind it out with a Indians squad that looked primed for second-straight upset victory. Fort Recovery didn't win a game over a league foe all season long until a one-point win in double overtime in the sectional semifinal against Marion Local, but the Indians pushed the MAC champs to the brink of defeat in this one.
Fort Recovery held as high as a six-point lead in the first half but a back-and-forth affair in the third quarter left New Bremen on top 29-28 with eight minutes to play.
The Indians tied the game for the last time at 34-34 with 3:00 left on the clock, but New Bremen's Brian Schwartz hit an NBA range three-pointer to put the Cardinals on top for good. The Cardinals made 7-of-11 from the free-throw line down the stretch to pull way for the victory.
Schwartz was the top scorer for the Cardinals with a game-high 17 points with four three-pointers while Steineman added 15 markers.
Travis VanSkyock was the lone player in double figures for Fort Recovery (8-14) with 16 points.

New Knoxville 73, Minster 50
When you're hot, you're hot and when you're not, you're not and that was the case for New Knoxville in its 23-point thrashing of Minster at The Palace.
The Rangers hit 59 percent (29-of-49) from the floor and 10-of-11 from the free-throw line (91 percent) as four New Knoxville starters reached double figures for the night.
"We normally shoot the ball pretty well and we did that tonight with some easy shots by beating their pressure defense," said New Knoxville head coach Dan Hegemier.
The top scorer for New Knoxville, Dustan Kruse, hit for 21 points and eclipsed the 1,000-point plateau for his career after needing just four points to reach the milestone for the four-year letterwinner.
Joining Kruse in double figures for the Rangers were Ross Stienecker with 18 points and eight rebounds and the backcourt tandem of Tony Meyer and Josh Niemeyer, who had 11 and 10 points, respectively.
The balance of New Knoxville spoiled a strong showing from Minster's Andy Beckman, who shot 7-of-10 from the field and 10-of-11 from the charity stripe to finish with a game-high 25 points.
The problem for Minster (14-8) was that Beckman was the lone offensive threat as the Wildcats shot just 38 percent from the floor and a season-worst 1-of-16 from beyond the three-point arc. Take Beckman out of the picture and the rest of the Wildcats combined to shoot just 10-of-35 (29 percent) from the floor and 0-of-13 from long range.
"They are very solid in the halfcourt defensively and not just at the three-point line, but all over in the halfcourt," said Minster head coach Mike Lee. "They handled our pressure well and got some easy baskets."
Minster hung tough in the first half, but New Knoxville outscored the Wildcats 49-32 in the second half and held a double-digit lead from early in the fourth quarter and just poured it on from there.
Phone: (419)586-2371, Fax: (419)586-6271
All content copyright 2006
The Standard Printing Company
P.O. Box 140, Celina, OH 45822