By Gary R. Rasberry
grasberry@dailystandard.com
COLUMBUS -- Even though there was a little bit of disappointment as he came off the mats for the final time at the 69th State Wrestling Championships, Andy Schmidt knew his goals were accomplished.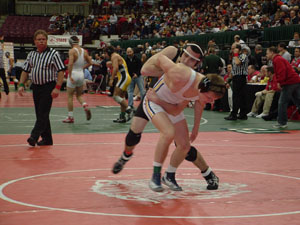 The Coldwater senior took his place on the podium after finishing eighth in the Division III 152-pound weight class at the Schottenstein Center on Saturday afternoon.
Schmidt ended with his tournament the way he started, wrestling just one bout as he took on Brookfield's Ross Tice in the seventh-place match.
Tice took control early and got back points off the takedown, leading 4-0 after the first period. Schmidt chose top to start the second, but Tice escaped and took Schmidt down, pinning Schmidt 20 seconds into the second round to give Schmidt eighth place overall.
"Wasn't the way I wanted to end it," said Schmidt after his match, "But I have a good placing." The season was a good one for the senior. In addition to winning a sectional title and district runner-up on the way to state, Schmidt reached the 100-win plateau and kept going. Entering the state tournament, Schmidt needed one win to tie the school record for career wins and two to surpass Kyle Oswalt on the top of the list.
In his first match on Thursday, Schmidt tied Oswalt with a big win. After losing his opener on Friday, Schmidt just needed a win to place in the top eight, getting it with a pin with one second left in the match to reach the placement round and break the school record. Schmidt leaves (Continued from page 1B)

Coldwater with a fine record of 130-47. Schmidt's 44 wins (44-7 record) was one short of the school record for wins in a season, held jointly by pair of fellow state qualifiers, Aaron Alig (2002-03) and Brian Uhlenhake (2004-05)
Schmidt also joins Oswalt as the only Cavaliers to place at state. Oswalt finished fifth at 215 pounds last season.
"It's very special," said Schmidt. "Being the second one to place at state, it's an honor."
Schmidt that he's glad to have been a part of the upswing of the Cavalier wrestling program and that he'll be able to leave something for the underclassmen and future wrestlers to work for.
"I want them to be able to try and make state," said Schmidt. "I want them to say 'There's two guys that have placed for Coldwater, I want to be the third one.'"
As a team, Coldwater totaled 13 team points on the tournament, ranking them 44th overall in the standings. Versailles scored just one point in its tournament run.
The only other area wrestler to place on in the tournament is Wapakoneta's Jon Zofkie, who finished eighth overall after losing 9-2 to Clyde's Brent Aona.
Phone: (419)586-2371, Fax: (419)586-6271
All content copyright 2006
The Standard Printing Company
P.O. Box 140, Celina, OH 45822