COLDWATER Ð For four years now, Marion Local's Maria Moeller has earned widespread recognition as one of the premier players in the state.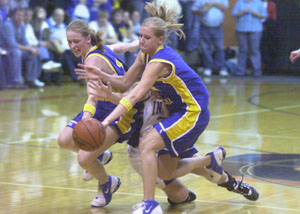 At Thursday night's district final she showed, once again, why she is deserving of the accolades.
Moeller did everything but drive the bus for the Flyers, as she poured in 34 points and willed her team to a 53-46 victory over the Fort Recovery Indians.
With the win, Marion advances to regional play for the fourth time in the last seven years. The Flyers, now 18-5 on the year, will take on the Fort Loramie Redskins, a team Marion beat at the regional level in 2000 and 2003 before advancing to state both years. The game will be played Thursday at 6:15 p.m. at Vandalia-Butler's Student Activities Center.
All year long, Marion coach Treva Fortkamp has been imploring Moeller to take over games from the start, and Thursday the Ohio State-bound senior complied. Moeller scored eight of her team's 10 points in the first quarter, and poured in 12 more in the second period to help the Flyers take a 25-22 advantage into halftime.
"Coach is always telling me to come out right away and attack the basket so I decided that I needed to do that tonight," said Moeller. "I feel like I'm the leader on the floor so I feel like I have to take charge, and tonight my shots were just falling."
The Indians weren't just standing around in awe, however, as they scored the first seven points of the second half to take their biggest lead of the game at 29-25.
Not surprisingly, Moeller answered in a hurry, as she drilled a three-pointer and followed with a baseline jumper to put her team back up by one. Sara Fortkamp then hit a jumper from the wing to put the Indians up again, but it would prove to be the last lead they would have.
It's not like the game turned into a yawner, though, as the Indians kept fighting. Down by six with just under four minutes to play, they got a bucket from Ciera Rammel and two free throws from Joanna Snyder to crawl back within two with just two minutes left.
Holly Fortkamp then put Marion back up by four with a big bucket in the lane, and the Flyers hit five of their last six freebies to ice the game.
Asked after the game what more Moeller could have done, coach Fortkamp thought awhile before answering.
"She could have filled the water bottles up," said Fortkamp with a laugh. "I am just blessed to have a player like Maria, because she just took us on her back and carried us. We've talked for the last two days about how we wanted to be the ones attacking them, and Maria was able to get penetration early on."
Fort Recovery coach Jeff Roessner could only shake his head at the damage Moeller did.
"Maria really played a great game tonight," said Roessner. "I thought we did what we could do defensively in most of the other areas of the game, but we just didn't have an answer for her. We came in tonight thinking she was going to get her 20 (points), but 34 was a little more than we liked to see. She controlled the game both offensively and defensively."
Free throws were the main difference in this one. The last time the two teams played, Marion hung on for a five-point win (Continued from page 1B)

despite making just 13-of-32 from the foul line. This time around it was Fort Recovery that had trouble from the charity stripe, as it connected on just 10-of-22 attempts, while Marion made 21-of-31.
"Fort Recovery is a nice team, and we knew it was going to be a dogfight," said Fortkamp. "It seemed like we couldn't put them away because they're explosive. We had our chances to put them away but they would crawl back into it. When we were down four I though 'Great, 2001 here we come again.' (when Fort Recovery knocked off number one ranked Marion in the district finals). But we regained our composure, came back and got the lead. We survived."
TICKET INFO -- Tickets for Thursday's regional semifinal game against Fort Loramie will be sold as follows:
¥ Wednesday: noon-3:30 p.m. in the high school athletic office, and 6-7:15 p.m. in the high school main office
¥ Thursday: noon-12:30 p.m. at the middle school, and 12:30-2 p.m. at the high school athletic office.
All tickets are $6 in advance and $8 at the door. Schools receive a portion of their presale, so fans planning on attending are urged to buy tickets in advance.