By Margie Wuebker
mwuebker@dailystandard.com
Verah Barberine looks at colorful hats and sees only red and purple.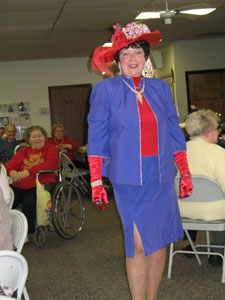 The Greenville resident, known to friends and family as the Red Hat Queen, entertained area senior citizens with a Tuesday afternoon fashion show at the Mercer County Council on Aging.
Barberine, who is teaching fellow members of the Flamboyant Fun Female chapter of the Red Hat Society to dress flamboyantly, appeared in a bright purple suit trimmed with sparkling rhinestones. Matching bracelets and large rings adorned her long red gloves while rhinestone clips added pizzazz to her red high-heeled shoes. All her hats coincide with the same color scheme.
"I find hats everywhere," she said gesturing toward a long row of hat boxes each bearing a unique chapeau. "I used to dress up in mom's hats, gloves, dresses and jewelry as a kid, so this must be my second childhood."
Barberine began the show with an array of period hats ranging from the 1400s to 1990s. Elegantly dressed ladies in the 1400s and 1500s settled elaborate coronets over their blonde tresses and braids. Decorative pins added front interest while trailing veils were all the rage.
Hats, known as Fontage commodes, drew the attention of women in the 1600s. Barberine's design features tall lace detail resembling a magnificent bird with wings outstretched.
"This was the period of corkscrew curls and beauty marks," she said. "Women had paste-on marks they would move from one place to another during an evening event."
The 1700s brought Dormeuse hats or mop caps -- a style favored by Martha Washington. The caps fit demurely over big hairdos of the day.
Poke Bonnets of the 1800s hailed from the Appalachians, where thrift-conscious women designed headgear using stiffened brown paper bags and cardboard.
Milliners were not permitted to use feathers in the early 1900s. Nature enthusiasts feared too much plummage would lead to the extinction of exotic birds. The 1920s ushered in face-framing cloches while the 1930s brought pillboxes and the 1940s felt hats with snoods or decorative bag-like creations to hold hair in place. Designs ran the gamut in the 1950s, and First Lady Jacqueline Kennedy brought back the pillbox in the 1960s.
"Women hosted hat shows in that area much like Tupperware parties," Barberine said. "Friends gathered in private homes to view the latest styles and place their orders."
Hats disappeared from the fashion scene for a time, only to enjoy a resurgence during the 1980s when Lady Diana Spencer made public appearances following the announcement of her engagement to Prince Charles. By the 1990s, the fashion pendulum swung to a decidedly country-western theme.
Barberine also displayed hats she designed for each month of the year. Some were rescued from thrift stores while others came from marked-down tables at Wal-Mart.
She has become adept at changing colors to suit her red and purple penchant. Through trial and error, the Darke County resident learned straw hats can disintegrate with the use of some paints.
"I discovered model car paint works the best," she said. "Sometimes the shade doesn't turn out quite the way you want, but there is always the possibility of a second coat."
From red cabbage roses to a purple and silver turkey, decorations are definitely the name of her game. Fluffy feathers, purple wisteria, butterflies, birds, gold lame, lady bugs, dried seed pods, poinsettias, cheetah-print fabric and handmade poufs add the desired effect.
"None of my hats are plain," she added with a smile. "I like fancy hats with poufs and lots of feathers. The kind that bounces and flutters with every step."
Phone: (419)586-2371, Fax: (419)586-6271
All content copyright 2006
The Standard Printing Company
P.O. Box 140, Celina, OH 45822