By Ryan Hines
rhines@dailystandard.com
WAPAKONETA -- It will be a pair of state-ranked teams on Friday night when New Bremen and Ada meet for the Division IV district final at Wapakoneta.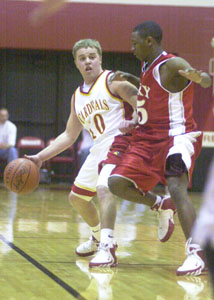 New Bremen, ranked eighth in the final Associated Press state poll, ran past an outmatched Lima Perry squad, 78-48, while Ada, the second-ranked team in the D-IV poll, needed a three-point play by Chris Singleton with seconds remaining to slip past New Knoxville, 51-50.
The Cardinals (19-3) and Bulldogs (21-1) will fight for a berth in the regional on Friday night at 7 p.m. at Wapakoneta. New Knoxville, which defeated New Bremen earlier during the regular season and would have played against the Cardinals again had they won, ends its season at 17-5 while Perry is out of the postseason at 16-6.

New Bremen 78, Lima Perry 48 The Cardinals had a big advantage in the post and on the boards as New Bremen coasted to a 30-point win over Lima Perry on Tuesday night.
New Bremen attacked the post on nearly every possession and dominated the boards with a 37-24 advantage which was more than enough to lift the Cardinals to a district semifinal victory.
Cardinals head coach Mike Ernst was happy with the way that his team attacked the basket.
"We've been struggling with our post game the past several games and when we struggle in the post we slowly turn into just a three-point shooting team and we're not very good when that's all we do," said Ernst. "We had a little more balance with an inside and outside game tonight and that was key."
Perry head coach Mike Minnig knew that his Commodores were in trouble with the size of New Bremen.
"We definitely had a height disadvantage heading into this one, " said Minnig. "They did a good job of attacking us in the post right off the bat. They just outplayed us in about every phase of the game.
"I would like to get some of the water that they have down there," added Minnig. "I just kept looking up in warmups and up and up and up with each of their kids that walked by. They just keep bringing them in and they play hard. That's a very good combination to have."
"Defending the post and rebounding were big keys for us heading into the game," continued Ernst.
And if it wasn't enough of an advantage already, New Bremen was also more talented than Perry as well.
Scott Steineman led the charge for New Bremen (19-3) with a strong all-around game in which he scored a game-high 26 points while also adding five assists, six rebounds and six steals.
Steineman's performance drew big praise from Ernst.
"He has great ability and just loves to play basketball," said Ernst. "He knows what's going on on the floor and helps us get some easy baskets with his defense in the passing lanes and ability to get to the basket."
Brian Schwartz and Allan Webster joined Steineman in double figures with 10 points apiece.
If the inside advantage and talent advantage wasn't enough, New Bremen's pressure defense also caused fits for Perry all night long forcing the Commodores into 27 turnovers.
"You cannot turn the ball over as many times as we did against a team the caliber of New Bremen" said Mike Minnig. "That got them in transition and they got some easy baskets and some open looks and took advantage of both of those. That's a good team over there and they showed why."
"We were concerned with their quickness and we wanted to keep the ball in front of us and we did a pretty good job of that. They have such a quickness advantage that they did beat us a couple of times, but for the most part we did a good job defensively and forced some turnovers," said Ernst.
New Bremen was in control from this one from the start leading by 10 points after the first quarter and then basically putting the game away in the second quarter.
The Cardinals extended the 10-point lead right from the start in the second quarter with an 18-4 run to put New Bremen on top 38-14 with 2:24 to go before halftime. Steineman keyed the second-quarter spurt with 16 points in the second stanza.
"We beat ourselves up way too much after the way that we played on Friday night," said Ernst. "It told the guys that they were being too hard on themselves but I think that getting out to a big lead early gave us a shot of confidence."
New Bremen took a 21-point lead into halftime and then raised it to as many as 36 points in the fourth quarter before emptying the bench as both teams played all 15 eligible players in the game. There were 10 Cardinals that scored in the contest.
Daniel Raines led Perry (16-6) with 13 points as the only Commodore in double figures.

Ada 51, New Knoxville 50
The Bulldogs' one-point win over the Rangers came via a conventional three-point play from Singleton with five seconds remaining on the clock.
Singleton, who had 10 points and eight rebounds in the contest, took a pass from teammate Kyle Baker in the lane and scored while also being fouled. The deuce tied the game at 50-50 and the Singleton free throw gave the Bulldogs the lead with just five ticks on the clock.
New Knoxville's Tony Meyer fired a last-chance effort for the Rangers but it was off the mark and Ada celebrated the win.
Zac Dysert led Ada with a team-high 16 points and added nine rebounds while Josh Niemeyer led New Knoxville with a team-best 16 points, which included four three-point field goals, while Dustan Kruse wraps up a fine career for the Rangers with 12 points.
Phone: (419)586-2371, Fax: (419)586-6271
All content copyright 2006
The Standard Printing Company
P.O. Box 140, Celina, OH 45822