By Tim Cox
tcox@dailystandard.com
Celina city street crews are working this week to remove trees from the downtown area, and it likely will be years before any new landscaping is replaced along the streets.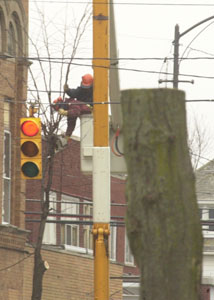 All of the approximately 30 trees are going to be removed, city officials say, because they are growing too large and their roots are threatening the sidewalk surface. The larger trees also are becoming popular homes for nesting birds, which create messes on the sidewalk.
A new streetscape -- likely lacking trees -- will be designed when city officials eventually replace curbs and sidewalks throughout the downtown area. The city is seeking grants to partner with the Ohio Department of Transportation on a complete reconstruction of Main Street, likely in 2010 or so.
Portions of Main, Market and Fayette streets were lined with trees during a streetscape project in the late 1980s.
City officials are removing the trees now because it can't wait until the future street and sidewalk reconstruction, said Kent Bryan, the city's community development consultant and acting safety-service director. Bryan is filling in for Safety-Service Director Jeff Hazel, who is in China with a church group doing missionary work. "We're doing it now because it's overdue," Bryan said.
Even the trees that remain of manageable size are being removed. Those will be replanted in the city's parks, Bryan said.
Some of the trees simply had grown too large for the downtown area, Bryan said. Others are beginning to push up the sidewalks with their roots, said Joe Wolfe, the city's public works superintendent.
The metal grates that now cover the trees' stumps and surrounding area will be removed and new concrete will be poured, Bryan said. When city officials decide how to dress up the downtown in the future, trees probably won't be part of the plan, Bryan said.
"Trees bring their own set of problems," Bryan said. "We'll probably go with a cleaner look."
Ornate street lighting and intricate brick work around crosswalks and other places are more likely ideas to be considered, he said.
"It doesn't make any sense to do anything now because we're planning to redo the curb and sidewalks in the future," Bryan said. "We'll take a couple of years off and then come back with a new plan for the downtown."
In a separate but related matter, city officials continue to discuss a potential downtown revitalization effort with business owners. City officials will decide later this year whether to seek grant funding for that program, which can help fund building facade and interior improvements.
Phone: (419)586-2371, Fax: (419)586-6271
All content copyright 2006
The Standard Printing Company
P.O. Box 140, Celina, OH 45822