VANDALIA -- The Versailles Tigers advanced to the Division III regional finals Wednesday night with a gutty 44-40 victory over the Anna Rockets.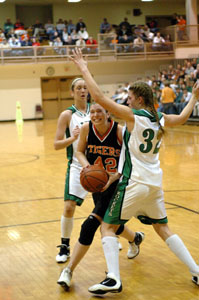 The Tigers dug themselves quite a hole early in the game but chipped away at the Rocket lead and hung on late for the win.
Versailles (20-5) will take on Jonathan Alder (23-2) Saturday for the right to advance to next week's state tournament at the Schottenstein Center in Columbus. The game is slated for a 1:30 p.m. tipoff at Vandalia-Butler's Student Activities Center.
Things didn't look so good for the Tigers in the early going, as the Rockets shot out to an 11-2 lead midway through the first quarter. The Tigers responded with a fury and turned the tables with a 12-1 run that ended with three-balls from Megan Shardo and Lynette Stauffer.
It was an opportune time for Versailles to get hot from behind the three-point arc, as it hadn't made a three-pointer in its four previous tournament games. Anna then took its turn to go on a scoring spree, as it finished the half with an 11-4 run to take a 23-18 half-time lead.
Versailles grabbed the lead for good in the third quarter and steadily built it up to six points halfway through the fourth, but Anna made things interesting late.
Anna's Gretchen Bensman hit a pair from the foul line to get her team within two with 43 seconds left, but Emily Bohman hit one freebie to give Versailles a 43-40 lead with half a minute remaining.
The Rockets then tried for a tying three-ball, but Shardo blocked the attempt and Laura Grilliot rebounded the miss and was fouled. The junior then hit one-of-two free throws with 13 ticks left, and after a Rocket bomb missed its mark the Tiger bench emptied onto the court in celebration.
Versailles coach Jackie Stonebraker was relieved to see her Tigers survive the shaky start and some woeful foul shooting (10-of-20).
"It didn't look good, but I thought the girls did a nice job battling back," said Stonebraker of the early deficit. "They've got a lot of pride and heart wearing those Tiger jerseys, and they knew they could get it back. We weren't hitting free throws very well tonight but we got the job done just enough to win the game."
Versailles did a sensational job defensively on Anna's junior forward Sarah Schulze, who averages over 20 points per game and has already verbally committed to play for Ohio State in 2007. Schulze finished with just 10 points on 3-of-18 shooting.
"She didn't get an open look," said Stonebraker of Schulze. "That was our goal, to keep on her and just stay in her pants and stay true to our defense. We just played her straight up, but our two guards were told to stay inside and not even worry about their two guards from the outside."
Anna coach Jeff Reese also gave credit to the Versailles defense for stopping his big gun.
"Everywhere she went she had somebody pulling at her," said Reese. "The few times she did get open it was because we threw a double screen for her, but we can't continue to do that because it breaks up the continuity of our offense."
The Tigers were led by Stonebraker's younger sister Justine Raterman, who tossed in 21 points, including 15 in the pivotal second half.
"Justine did a great job in the second half," said Stonebraker. "I know she got a lot of boards (eight in the half), too. "We just kept saying that you can't be scared of them and you've got to take it to them. They were tall in there but they were foul-prone, and we just kept taking it to them."
Phone: (419)586-2371, Fax: (419)586-6271
All content copyright 2006
The Standard Printing Company
P.O. Box 140, Celina, OH 45822