By Ryan Hines
rhines@dailystandard.com
ADA -- St. Henry is 2-0 in the tournament, but they could easily have lost both games without the contributions of unsung Redskins guard Zack Thobe.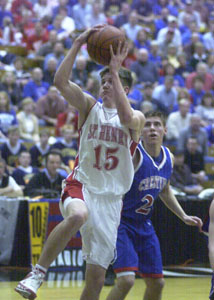 Thobe, who hit a game-winner at the buzzer to beat Coldwater in the sectional finals, scored a team-best 10 points, including a big deuce late, lifting the Redskins to a 29-26 win in a defensive battle over Crestview during Division III district semifinal action at the Ohio Northern Sports Center on Thursday night.
St. Henry (19-3) now moves to Saturday's district title game to face Ottawa-Glandorf (19-3) which won the nightcap at ONU over Spencerville, 44-38. Spencerville ends its season at 18-4 while Crestview's postseason run is over after a 14-8 campaign.
"They haven't been two easy ones, but we'll take them," said a relieved St. Henry head coach Joe Niekamp. "Hopefully it gives you another chance and another day to play closer to the way we're capable of playing. It was a slow game that came down to the last couple of possessions and we have to feel fortunate that we came out on top."
St. Henry held a 27-22 lead after an Andy Puthoff layup to start the fourth quarter, but Crestview's Tyler Gibson answered with a bucket of his own to pull the Knights to within three points at 27-24. Gibson had a chance to bring the Knights to within one point but made just one-of-two from the free-throw line leaving the score 27-25 in favor of the Redskins. Crestview's Ben Shindeldecker then had a chance to put the Knights on top at the 2:48 mark of the fourth quarter when he was fouled on a three-point attempt. Shindeldecker made just one-of-three from the charity stripe leaving St. Henry nursing a 27-26 lead. The Knights were just 2-of-7 from the line (29 percent) in the game.
The offenses of both teams then struggled for the next two minutes of action on the floor, much like both offenses did through the first three quarters, until Thobe made a great move to the basket to put the Redskins up by three points with under a minute to play.
Thobe got the ball on the wing and then drove aggressively to the basket and layed the ball off the glass in the midst of three Crestview defenders for a deuce with 39 seconds left in the game to give St. Henry a 29-26 lead.
"I picked up a role late in the season where I give a little more offense to our team but I still want to set up the guys too," said Thobe. "The shot against Coldwater gave me a little more confidence to be aggressive offensively."
Crestview then called two timeouts in the final 35 seconds of play as the Knights struggled to find a crease in the St. Henry defense.
After the second of the two timeouts with just 14.1 seconds left in the game, Crestview got the ball into the hands of Shindeldecker but his off-balance three-point shot was off the mark at the buzzer allowing St. Henry to escape with the victory.
"We wanted to get a quick basket after the first timeout, but we couldn't get a good look," said Crestview head coach Jeremy Best. "After the second timeout we were looking for a three with the time situation, but we could never turn the corner against St. Henry's 3-2 zone at the end. We had a look at the end but it just didn't go in."
It was a rough night for Shindeldecker, Crestview's leading scorer at 14 points per game, as the junior hit just 5-of-15 shots from the field but still led all scorers with 12 points. The tough shooting night wasn't just limited to Shindeldecker, though, as the Knights shot just 28 percent from the floor (11-of-40), including just 17 percent in the first half (4-of-23).
"There were probably some jitters from our side because this is the first time that this group of kids has played in this situation and playing against a team like St. Henry, you're going to come out jittery," said Best. "Jitters were a part of it, but St. Henry's defense had a lot to do with the poor offense too. "
"I told the kids at halftime that we might have to win this game with our defense," said Niekamp.
Crestview's defense was no slouch either making St. Henry work for every point it got while the Knights forced 14 turnovers. Redskins standout Kurt Huelsman was limited to just eight points while fellow large body Toby Boeckman was held scoreless.
"I thought that we were really good defensively and they were too with the way that they eat up space with their size," pointed out Best.
Niekamp had an interesting reason for the poor offensive showings on both sides.
"The ball was over-inflated and it was slick," said Niekamp. "It was a tough situation to play in. The ball was right out of the box and brand new. It was like handling an ice cube. "
With Huelsman and Boeckman held under wraps, Thobe grabbed the spotlight for the second straight game.
"Defenses are geared to stopping our inside game more and more, and Zack has recognized that and has stepped up his game and knocked down some shots," said Niekamp. "Tonight Zack had some big plays for us. We want to be diversified as much as we can and Zack along with his teammates are helping us in that way. I'm really pleased with Zack's development."