By William Kincaid
wkincaid@dailystandard.com
FORT RECOVERY -- Sometimes, a third-grader would rather take a long-division test than endure the routine derision and cruelty of fellow peers during recess.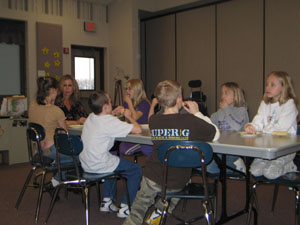 But music teacher and part-time guidance counselor Jayne Evans has committed a lunch period to talking with students about wrestling social problems that aren't traditionally addressed in other classes.
Each week, Evans meets with five different groups of students for interactive discussions, role play settings and various games that allow students to share their feelings in a supportive and structured environment.
During each 30-minute session in Evans' music room, she simultaneously directs the discussion while opening it up to the students.
"I feel there is a good positive environment at the building," Evans said about Fort Recovery Elementary. However, Evans said students can be cruel toward others, many times when they don't even know they're doing it.
"We talk about what they're going through," Evans told The Daily Standard in a recent interview. "We share about it and talk about it. A lot of students don't fit in."
The Daily Standard visited the last lunch bunch session of the nine weeks Wednesday, where third grade students Abby Grube, Journey Beetol, Taylor Guggenbiller, Leah Bihn, Sam Huelskamp, McKinley Timmerman and Katie Braun munched on popcorn and marshmallow treats before talking about respect and disrespect.
One student told the group she was part of an exclusive club that wouldn't let her talk to certain students.
"That's not nice," another student responded. "They should include anybody."
Evans joined the conversation and reminded the children about Martin Luther King and his efforts to end all forms of discrimination.
"He (King) was trying to be nice about it," one girl said. "He wanted to be treated fairly"
The students also addressed being reproached for the clothes they wear. One girl said she knew a group of students who made fun of another because of the way she dressed.
"It doesn't matter what you wear," another student said. "Or how cool you are."
After their interactive discussion, the students then role played typical scenarios that happen at school. One student acted like she just had a new haircut, to which another student said, "that's a stupid haircut."
The children then talked about how teasing can hurt others.
"I want you to be thinking about the things we talked about," Evans told the students before they were despatched for their next class.
Evans has been supervising the lunch bunch period for eight years. Each nine weeks she creates new groups of elementary students. And this year, Evans said the program is incredibly popular with students, as she has already met with over 100 students and has trouble including all who are interested.
"It's an opportunity extended to anybody in the school," she said.
Evans said the older children are more vulnerable to peer pressure, while the younger students are concerned about making friendships with others.
One of lunch bunch's primary objectives, according to Evans, is to help the students foster a positive self-image.
During a recent board of education meeting, Elementary Principal Nancy Knapke presented Evans and her program to board members, who were supportive of the lunch bunch.
"I've enjoyed every minute," Evans told the board. "It's fun to see the students work together. I feel it is a very worthwhile cause. It's a privilege to be doing something like this."
Many of Evan's participating students filled out a survey about how lunch bunch has affected them. Some of the comments are the following:
¥ "Lunch bunch made a big difference because it made me get to know everyone."
¥ "I like it because it is something that tells me how to prevent things that I might do to hurt other peoples' feelings."
¥ "Lunch bunch made a difference for me because I think I'm nicer to other people."
¥ "It made a difference because it let me know I am special."