By Ryan Hines
rhines@dailystandard.com
WAPAKONETA -- The New Bremen Cardinals are flying high, all the way to the Division IV regionals in Oxford after a pair of blowout wins in the district tournament at Wapakoneta.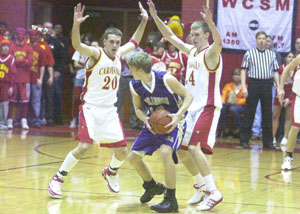 The Cardinals, who won by 30 points over Lima Perry on Tuesday, followed that up with a 28-point thrashing of Ada on Friday night, 72-44, to claim the school's first district title since 1977.
"It's been a long time coming and a lot of people in New Bremen have been waiting a long time for us to get another district title. It's been since 1977," said an exuberant Mike Ernst after the game. "When you get the following that we've been getting, it's so nice to have success, because everyone deserves this success."
New Bremen (20-3) now heads to the Oxford regional on Tuesday night at 8 p.m. to face Houston which defeated Georgetown, 50-49, also on Friday in the Dayton district final. Ada, the second-ranked team in the state in the final Associated Press state poll, dropped to 21-2 and out of the postseason.
It was never close from the start as New Bremen outplayed Ada in every facet of the game. From the inside dominance of Dan Brown to the outside artistry of Brian Schwartz and Scott Steineman, the Cardinals were hitting on all cylinders. Brown, who averaged just four points per game during the regular season, hit a season-high of 13 points against the undersized Ada post players.
"We've been working really hard on trying to get the ball inside more throughout the season and tonight we did a good job of doing that and we got some good results," said Brown. "We're getting to be a more balanced team."
Brown's play drew praise from more than just one person as coach Ernst and Steineman had plenty of good things to say about the Cardinals' junior.
"I think that this is the first time that he's been in double figures all year," said Ernst. "What you saw here is what we see every day in practice. We know that it's in there but he's such a great teammate and doesn't care what happens as far as points go for him, all he cares about is getting the win. I just can't say enough about his play tonight. He knew that he had to step up for us to win and he stepped up big time."
"Dan Brown played one helluva game tonight," said Steineman. "That's the best game that I've seen him play all year long. He really stepped up his play for us inside and we just flat-out owned their big men. Every chance that we got to get the ball inside tonight, we did it and we got great results from Dan."
Brown's play inside helped open up the perimeter for Schwartz and Steineman. Schwartz scored a game-high 25 points on 9-of-16 shooting from the floor with five three-pointers. Steineman dominated the first quarter of play with 13 points and played sparingly in the second half with foul trouble, yet finished with 21 points.
"If we're a balanced team, we're a very dangerous team and we were balanced tonight," said Ernst.
New Bremen set the tone for the game in the first quarter as the fullcourt pressure put on by the Cardinals caused major problems for Ada. The Bulldogs had eight turnovers in the first quarter, with three steals each in the first frame by Steineman and Scott Brackman.
"We weren't sure if our pressure would have the effect that it had on them," said Ernst. "Nobody had put any pressure on them this year. We called people and tried to get tape on teams that pressured them and nobody did all year long. Pressure defense is what we do, so I thought we would just throw it out there and it got us going and worked out good for us."
The Cardinals turned those turnovers into transition buckets and held a 22-11 lead after the first eight minutes of action.
Schwartz continued the onslaught for New Bremen in the second quarter as the smooth-shooting senior scored 11 points in the second frame to help give the Cardinals a 20-point lead, 43-23, at halftime.
The New Bremen lead got below 20 points on a couple of occasions in the second half, but the Cardinals were never in danger of losing this game from the outset.
Ben Staley was the lone Bulldog in double figures with 10 points.
New Bremen's defense was tight on Ada's Chris Singleton, who was second-team all-district averaging 15 points per game, and limited him to just five points.
The Cardinals also held a 36-27 advantage on the boards as 10 different players recorded at least one rebound. Schwartz led the way with six caroms.