By William Kincaid
wkincaid@dailystandard.com
FORT RECOVERY -- Eric Hemmelgarn sits in his wheelchair waiting for Tao, a 2-year-old Labrador/golden retriever cross, to pick up a deck of cards from the floor.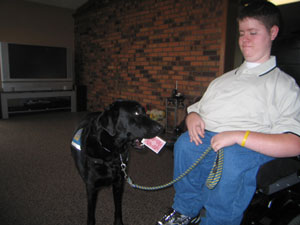 "Get," Hemmelgarn commands his dog.
Hemmelgarn delivers two more commands, before Tao drops the deck of cards in his hands.
"I liked him right from the beginning," Hemmelgarn says about his assistance dog, who he received in May from Canine Companions for Independence (CCI) out of Delaware, Ohio.
"It was a perfect match," his mother, Sharon, adds. Hemmelgarn was diagnosed with congenital muscular dystrophy when he was just 6 months old. Although doctors knew he had the disease, they were unable to diagnose what particular type it was.
Tao now is a vital part of Hemmelgarn's life and will go off to college with him next year as he majors in business at Wright State University in Dayton. Tao assists him with such obstacles as opening doors, retrieving dropped items and turning on and off light switches.
"He gives me something to rely on," Hemmelgarn says about Tao, who will live with him in the dorm next year.
Instead of having to ask other people to pick up a dropped book or open the door to his classroom, Hemmelgarn says he will be able to do things for himself.
It took three years before Hemmelgarn was selected to get a dog. CCI said there are a limited amount of dogs and only 33 percent of the dogs pass the rigorous training standards.
Hemmelgarn and his parents had to attend a two-week training session in Delaware. Each day they had two lectures and training periods from 9 a.m. to 4 p.m. After experimenting with six different dogs, Hemmelgarn was paired with Tao on the third day of training.
"When we got back to the hotel, he just laid on the bed with me," Hemmelgarn says.
Tao is trained to adhere to more than 42 commands, and his owner says he uses most of them every day. Tao also has the capacity to learn many more commands, Hemmelgarn says.
For example, as Hemmelgarn prepares for college next year, he is going to train Tao to search for his cell phone in case he is unable to reach it.
"He just loves it," Sharon Hemmelgarn says about Tao responding to commands. "His ears perk up and tail starts wagging. He's so happy. He know's what he was trained to do."
"Every time he hears that bus, he knows Eric's home," his father, Gary, says.
Although Tao now adores and follows Hemmelgarn everywhere he goes in the house, it took three months of intense training and bonding between the two.
During the initial three months, Hemmelgarn's parents and brothers weren't allowed to pet, acknowledge or show any form of emotion toward the dog. Tao needed to be completely loyal to Hemmelgarn and his needs -- and not diverted by distraction of other humans or animals.
People are still asked to refrain from petting or trying to get Tao's attention.
Hemmelgarn holds Tao's leash, and if other people distract the dog, the dog potentially could pull away and damage the limited muscle control of Hemmelgarn
So far, Hemmelgarn has brought his dog to restaurants, the doctor's office and Wal-Mart, and most people have been understanding and accommodating, his mother says.
"A few heads turn," his father says.
"But we haven't had any negative experiences yet," his mother adds.
Hemmelgarn says Tao needs 30 minutes of exercise each day. When it is cold, Tao will run on the treadmill until Hemmelgarn tells him to stop.
Last summer, the family took Tao to the baseball diamond in Fort Recovery. They closed all the fences and let Tao run free and catch tennis balls.
"He's just a big part of the family now," Gary Hemmelgarn says before adding that Tao -- now lounging on the chair with his limbs extended and tongue dangling out -- may be a bit spoiled, too.
According to a press release, CCI charges nothing for the dogs, which cost more than $10,000 to breed, raise and train. Since CCI receives no government funding, they accept charitable contributions, grants and corporate support.
CCI has its own breeding program in Santa Rose, Calif. Puppies are placed with volunteer puppy raisers, who will teach them 28 basic commands. When the puppy is 14-16 months old, the puppy raiser returns the dog to one of CCI's regional training centers for six months of advanced training, team training and a graduation ceremony.