By William Kincaid
wkincaid@dailystandard.com
FORT RECOVERY -- "We're all born with 100 billion brain cells. The same amount as Albert Einstein," Wright State University educator Judy Brewer told a crowd of 50 Fort Recovery parents during a program Tuesday night.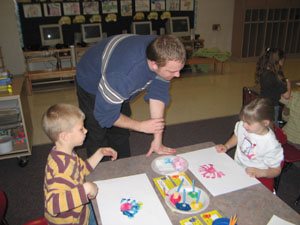 So why don't we even have a glitter of his intellect?
Brewer says even though we all have many more brain cells than we could ever need, it's all about genetics and environment.
When a baby is born, he or she has no understanding of the world. Words and images are meaningless.
"It's hard to imagine," Brewer says. "There is no logical thought." So from the minute a baby opens his or her eyelids, the brain begins to process the multitudinous noises, touches, tastes and smells. And because of this utter bombardment of new information, babies sleep an extensive amount of time. Adults, on the other hand, have developed neurological filters and can easily handle information.
"They suck it up like a sponge," Brewer says about a baby's intake of information.
The brain, according to Brewer, is the first organ to develop, even before birth. And every experience, even playing Mozart near a pregnant woman's belly, creates connections in a baby's brain.
When new information is absorbed, the brain creates a storage center, or drawer, for it. So when more data permeates the brain, the brain looks for a pre-established storage area to place it in.
"Experiences makes connections," Brewer says.
And the more connections, the stronger the intellect -- thus validating that intelligence is not connected to the amount of brain cells.
That's why, according to Brewer, so much attention must be devoted to early education. Children must have an active participation in their environment.
Also during the "Understanding and Appreciating the Awesomeness of Children's Brains" program, Brewer provided parents with the following brain-related information:
¥ The adult brain weighs about three pounds and is about 78 percent water, 10 percent fat, 8 percent protein and 4 percent other.
¥ The brain makes up about 2 percent or less of a body's weight, but uses 25 percent of its oxygen and up to 70 percent of its glucose.
¥ Each neuron connects with as many as 10,000 other neurons. Those connections are critical.
¥ By age 5, 90 percent of brain growth is complete.
After speaking about the development of intelligence, Paula Bryan, also a Wright State University educator, spoke about the importance of physical exercise in education, which increases the amount of oxygen to the brain.
While parents attended the program, their kindergarten and first-grade students were read to by Wright State University students and young teachers. The children also painted pictures.