By Ryan Hines
rhines@dailystandard.com
OXFORD -- After Tuesday's Division IV regional semifinal game at Oxford, Houston head coach John Willoughby told his team for the first time all season that he was proud of the way that they played.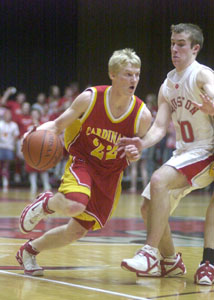 Willoughby held back such high praise for his team until this point of the year, but it's certain that his Wildcats earned the accolades from their mentor after defeating New Bremen 54-52 to advance to Friday's regional final. Houston (21-4) will now play Lockland (22-3) on Friday at 7:30 p.m. with a berth to the Schottenstein Center for the state tournament on the line.
"I told the radio and I just got done telling the kids in the locker room that this is the first time that I've told them that I'm proud of them," noted Willoughby. "Not very many people gave us much of a chance to win this game against New Bremen. Maybe a couple of people in our stands, but not many other people had us winning this game.
"These kids showed why they're one of the best teams in our area and have been all season long," continued Willoughby. "I don't want to say that we didn't get the credit that we deserve, but it feels good to show that we can play at this level."
Houston held the lead for the final three quarters after trailing early 9-0, but New Bremen (20-4) still had a shot to tie or win the game on the Cardinals' final possession. Trailing 54-52 after a trio of free-throw misses by Houston and just 3.1 seconds left on the clock, New Bremen's Scott Steineman got a clean look at a deep three-pointer but it bounced off the rim as the buzzer sounded.
Houston was in control of the game for nearly all of the final three quarters of play and led by six points, 53-47, with 1:47 showing on the clock in the fourth quarter.
Steineman drove for a deuce and teammate Allan Webster drilled a three-pointer, his fifth of the game, to pull the Cardinals to within one point at 53-52 with 44 seconds left to play in the game.
Matt Mullen had a chance to put Houston in front further, but missed the front end of a one-and-one opportunity with 28 ticks left on the clock.
After Steineman missed another three-pointer, Mullen hit just one-of-two from the charity stripe with 5.1 seconds left on the clock setting up the final moments for New Bremen.
Scott Brackman got fouled on the run at midcourt with Houston still under the foul limit in the second half leading 3.1 seconds on the clock for Steineman's failed three-point heave at the buzzer.
"I was pretty happy with that shot," said Ernst. "That was a pretty good look from where we were at and the time situation. They made a big play by committing the foul that they had to give before it came to free throws and I think that it stopped us from getting an even better look than what we eventually got because I thought it was set up pretty good. That was a smart play to use the foul in that situation, it was good strategy."
Houston kept New Bremen in the game in the fourth quarter with its inability to hit free throws. The Wildcats shot just 3-of-9 from the charity stripe in the fourth quarter and just 7-of-15 for the game.
Steineman led all scorers in the game with 22 points but had to work for his points shooting just 8-of-25 from the floor. Webster shot 8-of-12 from the floor, including 5-of-9 from beyond the three-point arc, for 21 points.
Dan Estes led Houston with 17 points while Brandon Hughes and Brian Feather added 14 and 11 points, respectively.
It's the first win for Houston against a Midwest Athletic Conference team after coming up short on the road at Minster and Fort Recovery during the regular season.
"We went to two of the MAC schools to play this season and came up short but we felt that if we could get to a neutral situation that we would have a better chance," said Willoughby.

Phone: (419)586-2371, Fax: (419)586-6271
All content copyright 2006
The Standard Printing Company
P.O. Box 140, Celina, OH 45822