By Ryan Hines
rhines@dailystandard.com
OXFORD -- Not many teams have been able to slow down New Bremen's high-octane offense this season as the Cardinals won the outright Midwest Athletic Conference title and reached the regional tournament with a potent, balanced and versatile offense.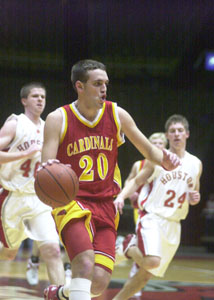 That wasn't the case for the Cardinals' offense against Houston on Tuesday night in the Division IV regional semifinal at Oxford.
New Bremen went from a deadly perimeter shooting team with an ever-improving inside game to a team that did none of the things that it did while mounting its 20-4 record.
Houston's Matt Mullen did the best defensive job on New Bremen's Scott Brackman that I've seen all season long. Mullen kept Brackman in front of him and never let the standout Cardinal point guard penetrate with any consistency.
Not all the credit can got to Mullen, though, as Brackman's aggressiveness got him into foul trouble in the first quarter and early in the third quarter. Brackman left the game with two fouls late in the first quarter with New Bremen on top by one point and came back into the contest midway through the second quarter with the Cardinals trailing by three points.
With the Cardinals' leader back in the game, New Bremen whittled the deficit to a tie game at halftime but that changed quickly in the third quarter once Brackman picked up his third foul.
Just nine seconds into the third quarter, after picking up a steal, Brackman was called for an offensive foul (horrible call by the way with the referee out of position and trailing on the play) trying for a layup on the other end.
That sent Brackman to the bench again and Houston responded by building a 38-27 lead before the Cardinals were able to get him back in the game midway through the third quarter.
"I thought that we got through it in the first half okay when he got into foul trouble, but the foul to start the third quarter is the one that really hurt," said New Bremen head coach Mike Ernst. "We wanted to turn up the defensive pressure in the second half, heck, we got a turnover on their first possession but then we had to play on our heels the rest of the game. That call really took us out of the game."
Ernst went on to say, "Please don't ask me about the call."
For those who didn't recognize it prior to Tuesday night, it's Brackman who runs the show for New Bremen and when he's not on the floor, it shows and it debilitates what the Cardinals want to do on defense and offense. Just as New Bremen sharp shooter Brian Schwartz when it comes to Brackman's importance to the Cardinals' offense.
Without Brackman's penetration, Schwartz (averaging 13 points per game this season) found it difficult to find open looks to contribute offensively attempting just three shots (all three-pointers) while scoring zero points. Brackman penetrating and kicking to Schwartz behind the three-point line has a been a staple of the New Bremen all season long but it didn't materialize against Houston.
"We need points out of him, but he didn't get many shots because they did a great defensive job on him," said Ernst. "We probably didn't go a very good job of getting him open a little more but you have to tip your cap to them because they did a very good job guarding him. Their containment of Scott (Brackman) probably made it very difficult for Brian too to find open looks."
"Brackman is a great player, but I thought that Matt Mullen did a great job on him handling the ball and then getting him into foul trouble," said Houston head coach John Willoughby. "We had in our reports that Brackman is suspect to getting into foul trouble because he plays so aggressive on defense and Matt did a great job of drawing fouls on him."
The play of Dan Brown and Scott Schnelle of late gave the Cardinals a legitimate offensive threat in the post but the two New Bremen big men combined for just six points.
Without the usual contributions from Brackman, Schwartz and the Cardinals' inside game, the offensive load fell in the laps of Scott Steineman and Allan Webster.
Both performed admirably as Steineman had a game-high 22 points while Webster added 21 points.
That's why the tournament is so enticing for basketball fans because if Houston and New Bremen played 10 times, my bet would be on the Cardinals to win eight of those games, at least, but it was the Wildcats that won when it mattered most.
The disappointing end shouldn't leave the Cardinals hanging their heads after a historic season, just look at accomplishments of this fine group of athletes.
New Bremen won the MAC title outright for the first time in school history, (third MAC crown overall), won a sectional title for the first time since 1988 and then won a district championship for the first time since 1977.
Mike Ernst was certainly appreciative and proud of what his team accomplished this year.
"This has been a great ride and I would like to practice tomorrow because I just love being around these kids," said Ernst. "We shouldn't be upset or disappointed in ourselves. We can be disappointed that we didn't' win this game, but we accomplished a lot this season and that is a lot to be proud of. These guys on this team are going to be successful and it goes way beyond the basketball court."
But it sure was fun watching them on the court this season too.
Phone: (419)586-2371, Fax: (419)586-6271
All content copyright 2006
The Standard Printing Company
P.O. Box 140, Celina, OH 45822