By Ryan Hines
rhines@dailystandard.com
FAIRBORN -- It's not that Versailles head coach Dave Peltz doesn't believe in the shooting abilities of his team, but what the Tigers did on Wednesday night was difficult to believe.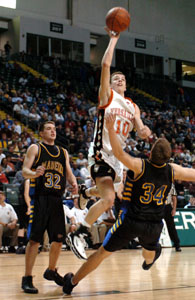 Versailles (20-4) shot 67 percent from the field and cruised past Madeira, 75-53, at the Ervin J. Nutter Center to advance to the regional final on Saturday afternoon. The reward for the Tigers in the regional final will be the state's top-ranked team in North College Hill (23-1), which features the likes of Mr. Basketball O.J. Mayo and fellow superstar Bill Walker.
Mr. Mayo and Mr. Walker may have even been impressed with the shooting of the Tigers against Madeira as Versailles hit 29-of-43 from the field, including 6-of-10 from beyond the three-point arc.
"I that that we have a very versatile team that can make us dangerous inside and outside," said Peltz. "When we can hit the outside shot like we did today, to go along with the inside game, then we're tough to beat. We executed well.
"We were due to shoot the ball well," continued Peltz. "We always play great defense, but I think that the guys stepped up tonight and believed in themselves and in each other and knocked down some shots. That gave us confidence and got us going." Versailles senior Adam Barga led the offensive charge with a game-high 22 points on 8-of-13 shooting while also adding a game-high seven rebounds from his guard position.
"It's been something that we've been working pretty hard on," said Barga on the shooting for Versailles. "Lately we've been shooting pretty well and I think that it has a lot to do with the work that we've been putting into it."
"He can do it all for a team and he showed that tonight," said Peltz, referring to Barga's versatility. "He all-out hustles on every possession of every game and once again he was all over the floor taking charges, chasing down rebounds or handling the basketball. He helps us in so many ways and is an excellent player for us."
Madeira head coach Jim Reynolds was very complimentary of Barga.
"He's a warrior for them and he can do a lot of things on the floor," said Reynolds. "He's just so complete on both ends of the floor and plays like it at all times."
The Tigers also got a pair of double-digit scoring performances from post players Zac Richard and Jordan Liette. Liette came off the bench and hit all five of his field-goal attempts to finish with 12 points while Richard added 11 points.
"When you play against good teams like we did tonight, you need people to step up and we had a few kids that did that for us tonight," said Peltz.
The hot shooting started right from the start for Versailles as the Tigers hit 10-of-13 from the field in the first quarter to go top 24-17 after the first eight minutes of play.
An even second quarter between the two teams kept the Versailles lead at seven points, but the Tigers blew the game open in the third quarter.
The Versailles lead ballooned from seven points to a 16-point cushion midway through the third quarter as Liette sparked the run with six points.
"Jordan Liette stepped up for us big in that third quarter," said Peltz. "He converted on the offensive end, played good defense and controlled the boards there for a while. He played a whale of a game."
Madeira brought the deficit back down to 12 points after a timeout, but Versailles closed the third quarter with eight straight points to take a 61-41 advantage entering the fourth quarter. Richard had a deuce, Jayson White had a three-point play and Barga banked in a running three-pointer at the buzzer to account for the late Tigers rally.
"I looked at the time and knew that it wasn't going to have to be a halfcourt shot so I kept on going with it and just before the buzzer I let it fly and the next thing that you know, it goes in," said Barga. "It felt pretty nice."
The game was never close in the fourth quarter as the Versailles led grew to as many as 23 points with both teams emptying the benches in the final few minutes.
Peltz was more than reserved when continuously asked about the daunting task of taking on North College Hill.
"We just take these games one at a time and have done so all season long so that won't change," said Peltz. "Obviously they are very talented and the hype says enough about the type of team that they are."
Madeira didn't like his team's chances of taking on North College Hill but does feel that Versailles could mount some kind of challenge, something that few teams have offered against the Trojans this season.
"When you look at our bracket, I think that Versailles is the team that best gives them a threat," said Reynolds. "I knew that it would be tough for us to give them any sort of a game, but from a physical standpoint, I think that Versailles has the best shot against them. I think that they can compete with them on the defensive boards and I think that it will be an interesting matchup."