By Gary R. Rasberry
grasberry@dailystandard.com
BOWLING GREEN -- Getting down 8-0 early was not part of the plan for the St. Henry Redskins.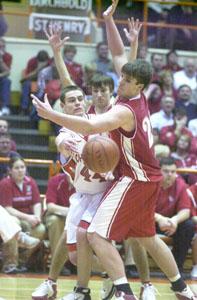 Neither was seeing their post players combine for seven points in the first half.
Johnstown-Monroe dominated the game in defeating the Redskins 62-48 in the Division III regional semifinal at Anderson Arena on the campus of Bowling Green State University on Wednesday.
The Johnnies, ranked third in the state in the final Associated Press poll, take their 25-0 record into its first regional final in school history on Saturday at 7:30 p.m. against Archbold. The Blue Streaks defeated Gibsonburg 76-34 in the nightcap at Anderson Arena and will be looking for their second straight trip to state.
St. Henry went scoreless for the first 2:20 of the game, turning the ball over twice and missing several open shots. Meanwhile, the Johnnies came out firing. Cory Ratai nailed a three-pointer to start the game and after a Redskin miss, Daniel Kessler followed up with a deuce off a drive. After another St. Henry miss, Kessler went long distance, putting the Johnnies up 8-0 two minutes into the game and prompting the Redskins to call a needed timeout. "That was huge," said Kessler. "Nobody expected us to come out like that. It's one thing to come out that way, another to keep a significant lead against a good team like St. Henry."
The pressure of Johnstown kept someone on Kurt Huelsman and Toby Boeckman while they were in the paint, making it hard to get the ball inside and when the ball went inside, the pair were immediately smothered.
"It's not the start you want to get off to. That's for sure," said St. Henry coach Joe Niekamp after the game. "Get behind like we did, it's all the more problematic for us.
"We got in a hurry offensively. We got out of sync. We didn't play with good recognition that we need, as far as catching it and squaring up and feeding the post."
"I think our perimeter defense was the difference," said Johnnies coach Joe Bline. "We were pestering their guards and making it difficult for post entries."
The Johnnies got up as much as 15-3 before the Redskins were finally able to put some possessions together to get it under 10 points at 17-9 after the first quarter.
Kessler continued to have the hot hand, hitting several more big shots on his way to 19 first-half points on 8-of-12 shooting.
"We've seen them play (St. Henry scrimmaged Johnstown in the summer), but you never know how good somebody is. I thought (Kessler) stepped it up," said Niekamp.
St. Henry did manage to keep Kessler under wraps in holding him to two second-half points, but that left Matt DiBlasio open big time at the start of the second half. DiBlasio, nailed three treys in a row to snuff out a St. Henry comeback attempt. DiBlasio, who moved in from Newark Catholic this season, was 4-of-6 from beyond the three-point arc in the second half to get all 12 of his points in the last 16 minutes.
The Redskins struggled shooting in the game. In the first half, the Redskins were just 5-of-24 (20.8 percent) before recovering slightly in the second half -- 14-of-32 for 43.8 percent -- to finishing shooting just below 34 percent for the game.
"We felt like we wore them down a little bit in the first half," said Bline. "We wanted to keep that pressure up. We told them at halftime that St. Henry is a great ballclub and had a lot of pride. The odds were that they were going to make a run at us."
"We had some looks, but were unable to knock them down," said Niekamp. "What do you do when you're not knocking them down? You go inside."
The Redskins were able to go inside some more in the second half. Huelsman and Boeckman recovered from tough first half to hit their scoring averages in the game. Late in the fourth quarter, the Redskins got as close as 11 points but by then, the Johnnies had the game well in hand.
Huelsman finishes up a tremendous career at St. Henry with 15 points and 11 rebounds. Boeckman fouled out late in the game and finished with 12 points and eight rebounds. Junior Mitch Niekamp came off the bench with 12 points.
Ratai added 14 points and nine rebounds for the Johnnies, who shot 44.4 percent from the floor and 40 percent from the three-point line.
"Tonight, that's the best team I've seen," said Niekamp of Johnstown. "Whether they're that good every night I don't know -- I know we're capable of playing better than we did tonight. They were outstanding."