By Shelley Grieshop
sgrieshop@dailystandard.com
Phil Fennig recalls the dust rising as he drew a circle in the dirt behind the elementary school in Celina about 50 years ago.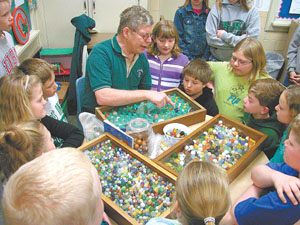 Back then it wasn't uncommon to see a group of boys pull Cat's Eyes, Candy Swirls and Benningtons from their pockets for a few games of marbles during recess, he tells a group of fourth-graders at Celina East Elementary School on Thursday.
"Monday through Thursday I'd bring in my nice looking ones," says Fennig, now a maintenance man at the intermediate school down the road.
The rules of the playground dictated that marbles and shooters were returned to their owners after each game, except on Friday. That day, marbles forfeited in competition were lost forever to the victor, he says.
"On Friday the junkie marbles came along," he says with a grin. The children eye his hundreds of prized marbles, displayed in three wooden cases, a jar, bowl and other containers on the table inside teacher Jan Dues' room.
"I've been collecting these since I was these kids' ages," he says.
His favorite catches the eye of several students. It's a 2-inch clear specimen with a white feline figure in the center.
"My grandmother gave me this one a long time ago," he says, revealing its worth about $325.
Other favorites include five swirly-colored marbles handmade by Jim Davis, a longtime glass maker from West Virginia. Davis began creating marbles in 1991 but suffered a paralyzing stroke in 2000. His six sons now carry on the trade.
Fennig, also a woodworker, says he got much more serious about the hobby after visiting flea markets with his wife, Cheryl.
"My wife collects Fostoria glass. After a while I got tired of looking for Fostoria glass and started looking at marbles," he says.
Last year he bought about 100 marbles to add to his ever-growing collection. He finds them at a variety of stores, even online and uses an informational book to guide him on purchases.
It's not their value that keeps him excited about the hobby; most marbles aren't worth a lot, he explains.
"I like them because they're pretty," he says simply.
Fennig brings a portion of his collection to the school each year and even holds a contest for sixth-graders who try to guess the number of marbles filling a container. His annual presentation began about five years ago when Fennig found out Dues' class had read the book "The Marble Champ."
Now, each year as spring approaches, Dues telephones Fennig to see if he still has those wonderful marbles to show.
"It's kind of a standing joke," Dues says. "I call him and ask, 'Phil, you still got your marbles?' "
Phone: (419)586-2371, Fax: (419)586-6271
All content copyright 2006
The Standard Printing Company
P.O. Box 140, Celina, OH 45822