By Shelley Grieshop
sgrieshop@dailystandard.com
COLDWATER -- An estranged boyfriend or obsessed grandmother are more likely than a stranger to steal a newborn from a local hospital maternity ward.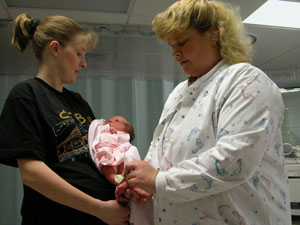 But in either scenario, hospital officials confidently say security is in place to prevent such an occurrence. At Mercer County Community Hospital, the newly-installed Hugs Infant Protection System can produce flashing lights and alarms, computer messages and even a full floor lockdown if a kidnapping is suspected.
New parents Linus and Tina Brunswick of Coldwater were comforted knowing Hugs was on duty when their third child, baby Emily, was born Tuesday at the hospital.
"We didn't have to worry at night when Tina was resting that something could happen," says Linus Brunswick. "She was able to get a good night's sleep."
The Hugs system, implemented at the hospital in late January, involves the use of a small, unobtrusive bracelet worn on the infant's ankle that feeds information to a nearby computer. The computer screen displays the floor plan and monitors each bracelet placed on babies immediately after birth. If the infant's strap is cut or tampered with, if the signal is no longer detected, or if the baby is moved to an unauthorized zone, alarms are immediately generated. The entire floor becomes a fortress as all doors and elevators are automatically locked.
The system also can interact with security cameras, public address systems, pagers and sirens. Each infant's tag is individually monitored and reports are generated on the child's exact whereabouts throughout the day.
An infant kidnapping has never occurred locally but because of frequent divorces and custody disputes, hospital CEO Terry Padden believes it's something to be prepared for.
"It's very sad that in today's world we have to take scarce healthcare dollars and spend them on security such as this," Padden says.
The decision to purchase the system was made after a member of the hospital's board of governors -- as an experiment -- tried to steal a toy doll from the maternity ward. The woman successfully took the doll down the stairwell and out to the parking lot without anyone stopping her, Padden says embarrassingly.
Both Community Hospital and Joint Township District Memorial Hospital in St. Marys have frequent on-site drills to keep staff members prepared for an infant abduction. Diane Wagner, director of women's services at Joint Township, would not reveal the details of their infant security system.
"But we do have a comparable system," she says.
One of the reasons the hospital moved their maternity ward to the fourth floor from the ground floor several years ago was to increase that security, Wagner adds. "It's much less accessible now."
Visitors to the fourth floor are greeted by a locked door as they exit the elevator. Entry is only granted after approval by a staff member through a speaker system.
"Emotions run high at the time of a birth," Wagner says, explaining the reason for the heightened security.
The first night after baby Emily's birth, the Brunswicks discovered how well the Hugs system works.
"Her band got a little loose and just like that the lights in the hall began to flash," Linus Brunswick says. "We were kind of surprised at first, but glad to see the system worked just like they said it would."
Phone: (419)586-2371, Fax: (419)586-6271
All content copyright 2006
The Standard Printing Company
P.O. Box 140, Celina, OH 45822